Sasaki's Greenwood Community Park Master Plan Honored by the 2023 ASLA Professional Awards
Each year, the American Society of Landscape Architects (ASLA) Professional Awards honor the best in landscape architecture from around the globe with categories in General Design, Residential Design, Urban Design, and Analysis and Planning. For the 2023 Awards program, Sasaki is thrilled to announce that the Greenwood Community Park Master Plan received an Honor Award in the Analysis and Planning category.
The master plan for the 660-acre Greenwood Park in North Baton Rouge lays out a constellation of cultural and recreational programs that connect seamlessly into a network of preserved and restored ecologies. The process brought together over 5,000 citizens, the largest outreach in Baton Rouge's history, to have a conversation about race and disinvestment in this historically underserved low-income neighborhood. Building alignment and trust in a contentious context, the implementation-minded proposal is complemented by a community impact plan that focuses on equitable development to reverse decades of disinvestment.
The plan focuses on creating a regional destination for all of Baton Rouge as well as a true neighborhood amenity for the surrounding community. It offers a dynamic set of spaces including an indoor/outdoor sports & recreation center, adventure playground, 6,000-person outdoor event space, woodland retreat center with adventure course, multi-purpose fields, community gardens and more. A network of trails and nodes nestle into the site support contemplative moments for groups of all sizes.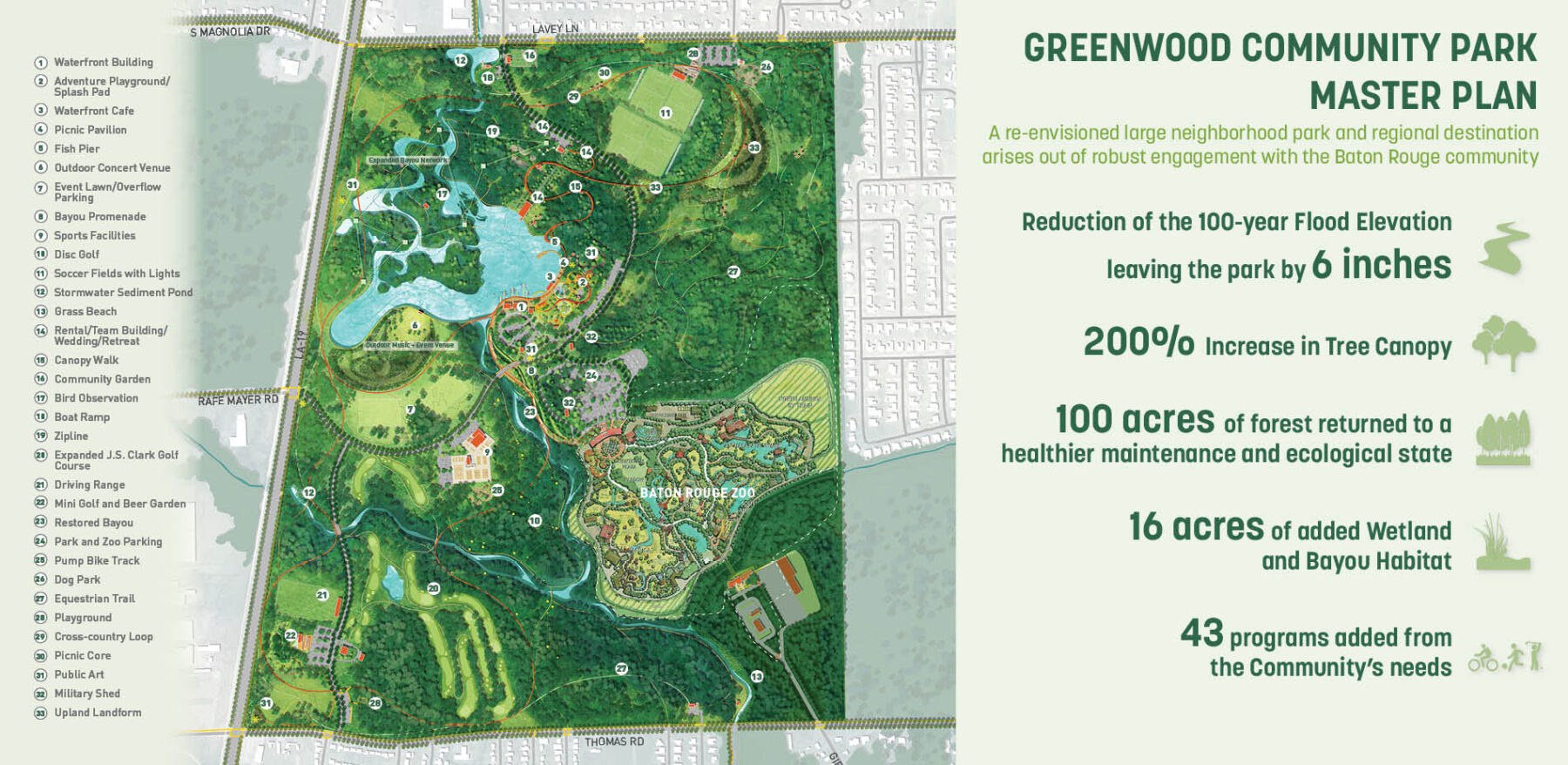 Embedded Resilience 
In addition to introducing a valuable recreational asset to the region, the plan enhances community value through flood protection, improved air quality, and increased habitat. The current bayous throughout the existing site were channelized decades ago, cutting off natural hydrologic functions and allowing for invasive species to take over. Through a series of new channels that trace the patterns of the original bayous, the plan recharges historic meanders, lengthens the run of the bayou, and creates spillover areas, effectively reducing downstream flood waters while treating 100% of stormwater through natural processes. Furthermore, the site boasts hundreds of acres of swamp and forest ecology, as well as restores hilltop meadows formed by the spoils of the new bayou and flood storage work, referencing indigenous mound builders and providing habitat for insects and birds.
Community First
For the project to confront racism and disinvestment throughout its implementation, it's critical that the record-breaking investment into Greenwood Park has positive impacts for North Baton Rouge. The plan's Community Benefits Program defines strategies to mitigate displacement and other effects of green gentrification. From its initial design to Phase I implementation and beyond, the project is committed to reconciling historic patterns of disinvestment in the community.
"This project has been very special for Sasaki as we have been engaged with the client, BREC, for 6 years and counting, helping them craft a vision and now designing and leading the construction for the first Phase. We are thrilled to see this remarkable community honored with such a great award."
Joshua Brooks, Principal
Congratulations to the Greenwood Park team for their recognition by ASLA! Click here to view the rest of this year's winners.