Accomplishing a universally designed future begins with the detailed study of The Infinite Loop and the Green Links — two landscape systems at the heart of the Virginia Tech master plan
Virginia Tech Infinite Loop and Green Links
The Infinite Loop and Green Links are a response to the Virginia Tech's location in the Appalachian Mountains.
These projects catalogue Virginia Tech's vast network of non-compliant pathways, stairs, and missing links that have not been upgraded since the Americans with Disabilities Act (ADA) was ratified over 30 years ago. Additionally, the projects consider current and future modes of transportation (including autonomous vehicles) in order to envision a future where all mobility modes harmoniously coexist. This amounts to a near-complete retrofit of the core campus landscape, thus implementing the master plan and ushering in a more equitable and inclusive future.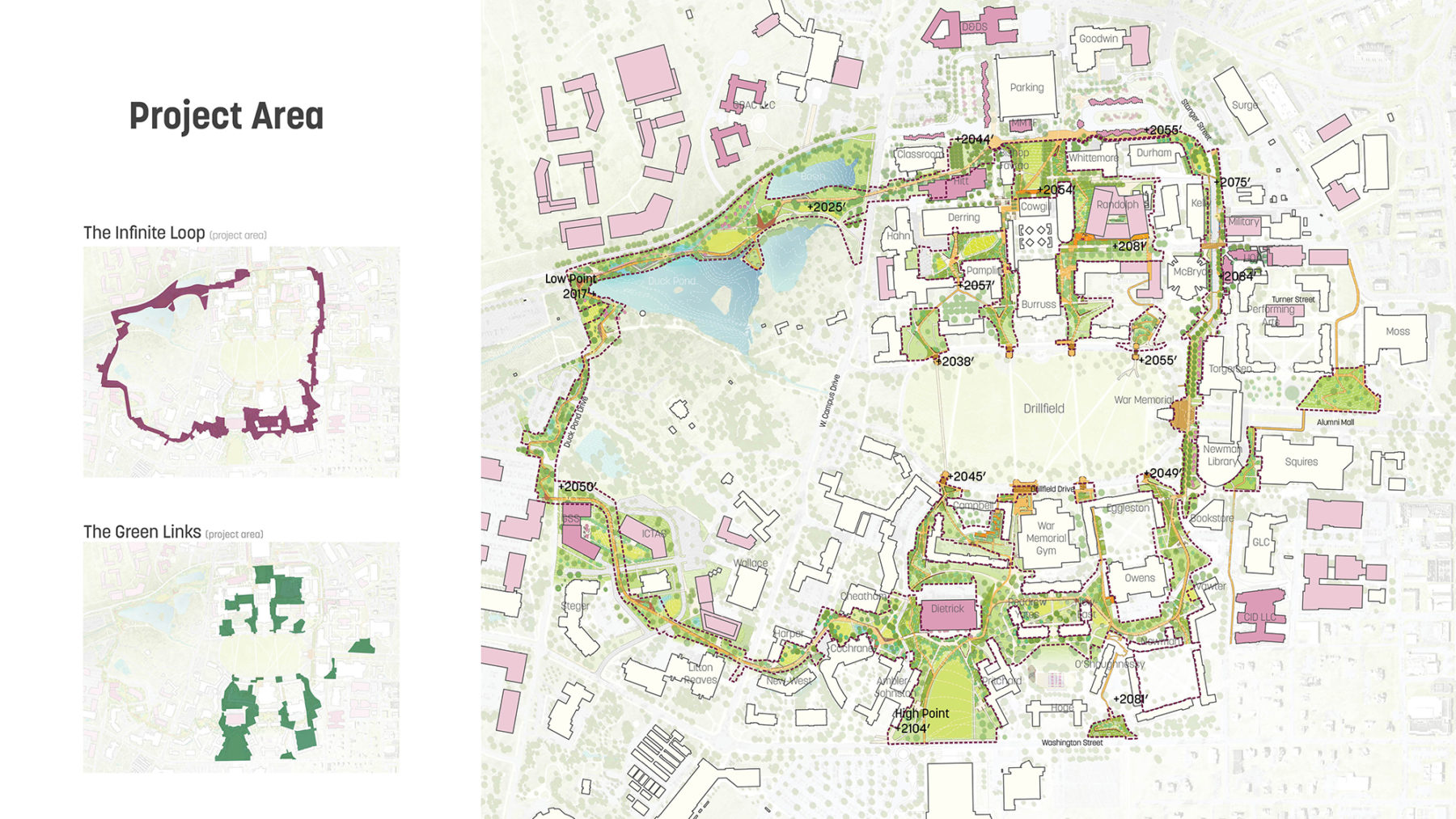 The Green Links and the Infinite Loop are built on a strong relationship between the university and the design team. With the strategic plan and master plan as their guide, these projects touch almost every square foot of Virginia Tech's core campus, weaving through the academic, residential, and ecological districts. To successfully address the needs of various campus conditions, the design team worked closely with the university to assemble four multi-disciplinary advisory groups composed of a diverse range of campus representatives. Monthly Zoom meetings with these groups proved successful in serving as the primary touch points to guide the project while one in-person socially-distanced presentation and site tour served as a check on the draft design. Top priorities include promoting universal design and bringing to life the strategic plan's charge of creating "productive collisions" moments across campus. A critical outcome of the process is a phased implementation strategy that prioritizes each segment of the plan based on synergies with other capital project timelines, cost, and complexity. Ultimately, the Loop and the Links provide a transformative vision for Virginia Tech that achieves bold goals of universal access while also unifying the campus through new landscape interventions.
The Infinite Loop and Green Links provide Virginia Tech with a detailed concept design for over five miles of campus pathways and open spaces that consider a core campus constituent, the disabled community. These projects embody the university motto, "That I May Serve," and offer a future where the primary path of travel across campus will always be barrier-free. The design takes direction from the master plan and strategic plan while analyzing the current campus condition and providing detailed landscape strategies that prioritize accessibility, placemaking, and planting. In addition, each project outlines a set of design guidelines that provide direction on what paving materials, site furnishings, lighting, and planting palettes to specify. Each concept contains a robust design narrative and is packaged into a graphic report that provides the Office of University Planning that can be used as a marketing and fundraising tool to help spur implementation.
Accessibility
To achieve the goal of creating universally designed landscapes, each path must have its own accessibility strategy and typology that responds to local conditions. Detailed grading studies for each segment of the Infinite Loop and Green Links ensure a feasible and coordinated mobility network for over five miles of campus pathways. Over 400 stairs are removed from the existing campus and are replaced with ADA-compliant pathways (less than 5% slope). Where 5% is not practical or feasible, ramps no steeper than 8.3% slope are deployed. Path alignments are designed to be gently-curving, responding to desire lines and building entrances.
Campus Identity & Sense of Place
The Infinite Loop and the Green Links offer an attractive and desirable experience. They support campus life and its mission while also being highly contextual. New colors and textures enrich the campus landscape through a diverse palette of trees, shrubs, and groundcover. Lawns are purposefully placed, giving them importance while reducing mowing operations. A strategy of "Productive Collisions" creates opportunities for social interaction through furnishings and open spaces. This changes the landscape identity from one of pass through to one that prioritized stopping and resting – a critical feature of universal design – thus creating new destinations across campus.
Health & Wellbeing
The Infinite Loop and the Green Links find new ways to incorporate health and wellbeing into everyday activities for all members of the campus community. Walking, biking, or scootering are encouraged with new campus gateways and pathways that support these active modes of transportation to navigate campus. Furthermore, these pathways welcome people of all ages and abilities by embracing universal accessibility. In addition, outdoor classrooms, enhanced campus quads, and large natural areas like the enhanced Duck Pond landscape provide greater access to green spaces that can be used for working or relaxing outdoors, promoting mental health and wellbeing.
A rigorous design process brought to light two specific programmatic and capital project synergies that allowed for an update of the master plan. Each of these areas – one in the existing campus core at a residential quad; one in a future campus district unencumbered by existing buildings – maintains master plan principles and overall desire lines while prioritizing and making feasible the Infinite Loop and Green Links grading strategies. These zoomed-in studies also consider existing and future utility enabling projects, including a chilled water line that will be built in the near-term and will require a new landscape to be built.
Technology
Integration of innovative technology along the Loop and the Green Links will keep students and faculty connected with new 5G across campus, extending the learning environment outdoors. Devices are spaced approximately 500' along the Loop, ensuring a continuous cellular network that coincides with enhanced outdoor spaces including, quads, residential plazas, outdoor dining areas, and ecological corridors that are used for research. Outdoor power, blue phones, and campus security cameras are also provided. Additionally, the Infinite Loop is designed in partnership with the university's transportation institute to accommodate autonomous vehicles, ushering in a new mode of transportation to the campus fabric.