A consensus-based planning process balances visionary aspirations with institutional constraints to generate a shared vision
UC Berkeley Campus Master Plan and Long Range Development Plan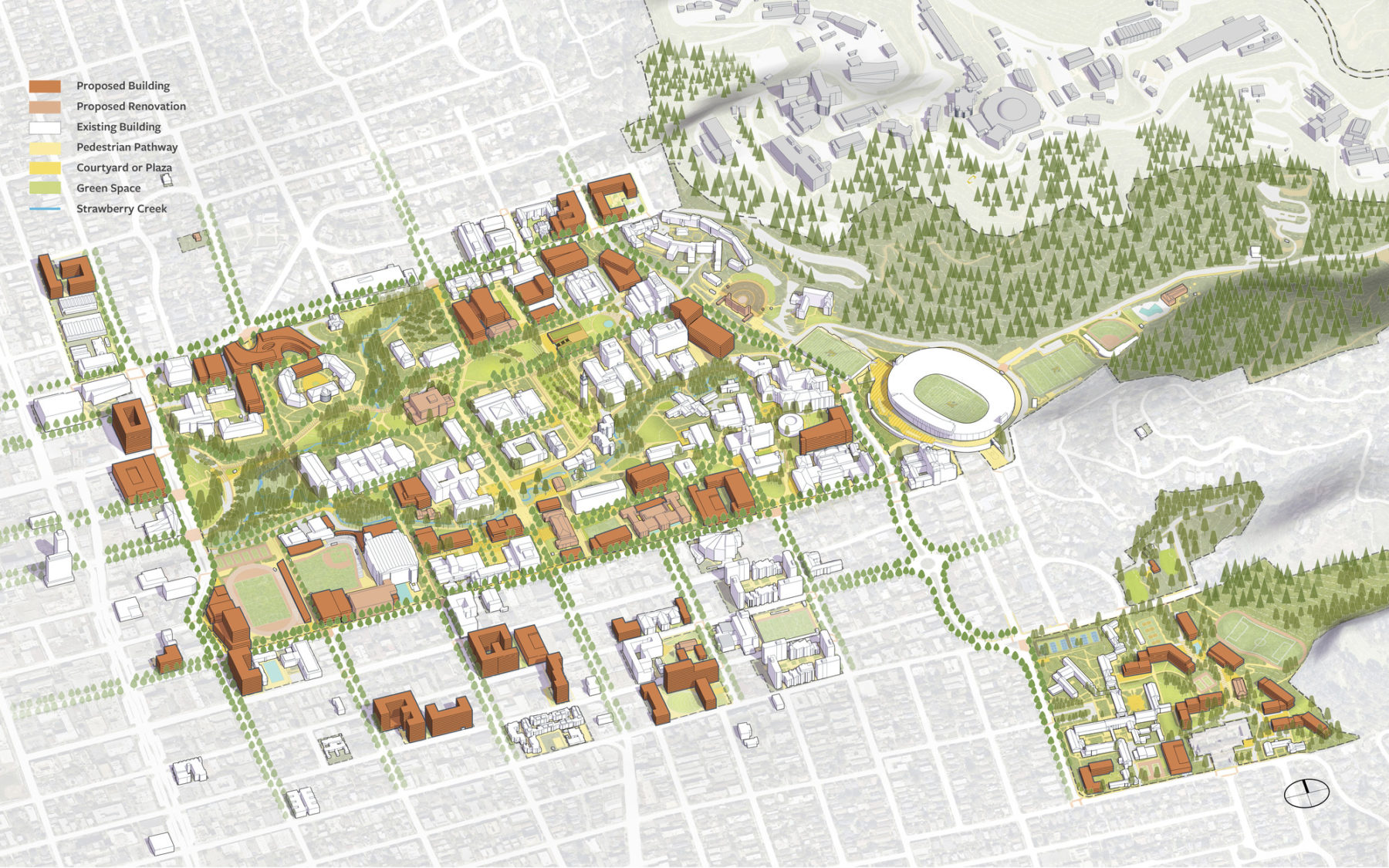 The plan celebrates and reinstates Berkeley's unique historic, ecological, and cultural assets, while providing space to meet contemporary needs and strategic initiatives–all within a highly constrained urban setting with few free-and-clear development sites.
The plan introduces 2.5 million net new gross square feet of academic and campus life space, 4 million gross square feet of renovated space, up to 11,730 net new beds of housing, and significant open space, mobility, and infrastructure improvements. Through a consensus-based approach, the plan fosters innovation and discovery, promotes placemaking and community, embraces inclusion and access, encourages environmental health, and creates a more sustainable, connected, carbon-neutral, and resilient campus for current and future generations. 
The development of UC Berkeley's Campus Master Plan and Long Range Development Plan (LRDP) occurred concurrently. The LRDP is a planning document that establishes a general framework to guide campus development, while the Campus Master Plan establishes a long term aspirational vision for the physical campus, proposing principles, goals, specific development strategies, and projects to realize the university's strategic vision and thoughtfully steward its resources. The Campus Master Plan and LRDP organize recommendations within five big ideas and four planning frameworks.
The Campus Master Plan strengthens the Central Glade as the Campus Park's iconic, signature open space by restoring the historic east-west viewshed, providing more spaces for academic and campus life programming, and supporting cross-campus accessibility.
The plan introduces a new campus life building, called the Central Glade Overlook, that replaces the existing twelve-story building that currently blocks the view from Hearst Mining Circle toward the Golden Gate, which was a key element of the campus's earliest master plans by Frederick Law Olmsted and John Galen Howard. The building would be integrated into the landscape and surrounding topography, restoring the Central Glade's east-west vista while providing both indoor and outdoor space to support campus life activities. The Central Glade Overlook's western face would facilitate indoor-outdoor connections with the adjacent open space to the west, which functions as a new outdoor room, comprising a plaza and a sloping lawn with terraced seating.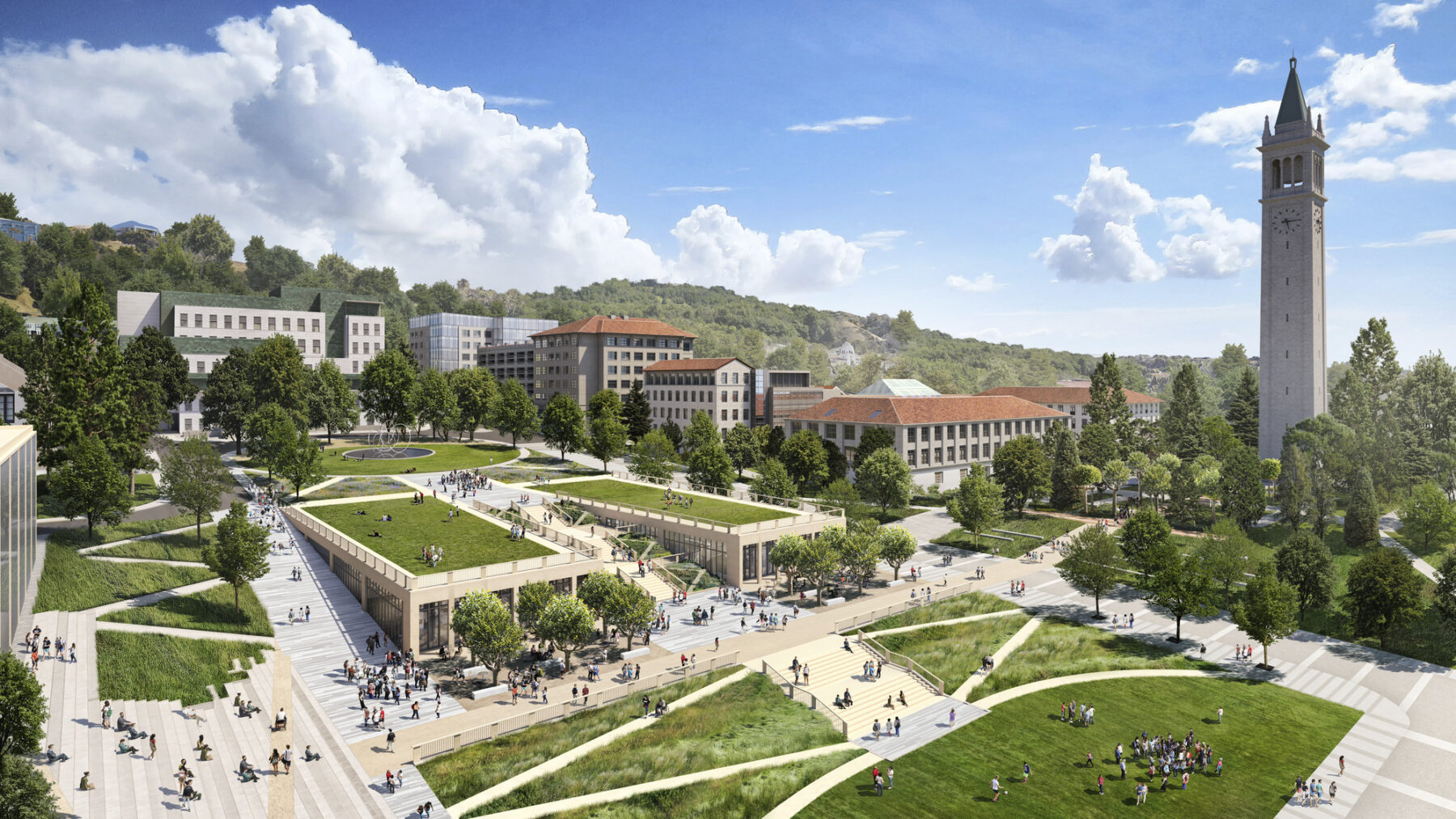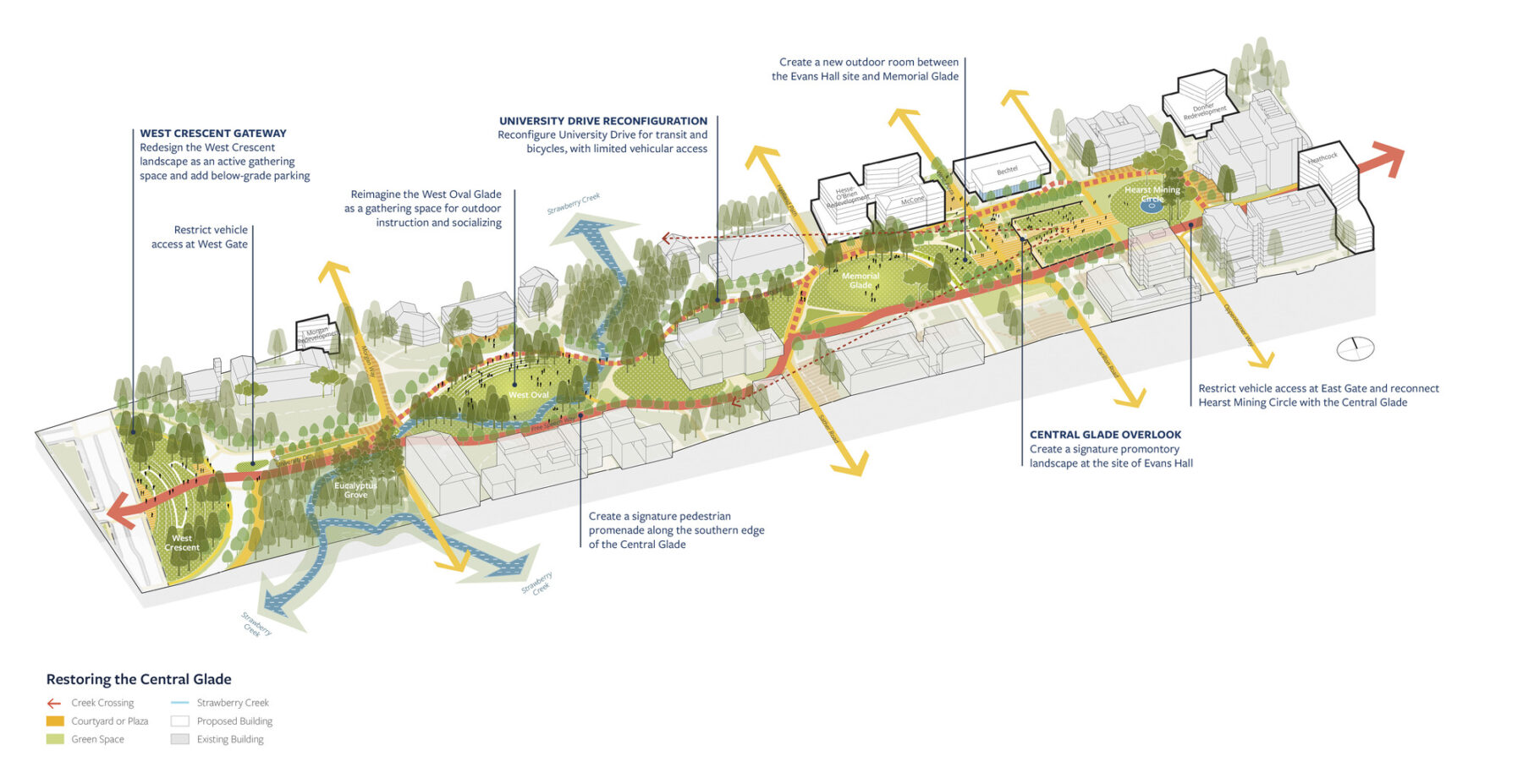 Strawberry Creek is a beloved natural resource to the campus community and visitors, and serves as an important organizing element for the campus. It provides a naturalistic counterpoint to the surrounding urban grid defined by the campus' John Galen Howard Plan and the City context.
The plan enhances Strawberry Creek to provide more moments of respite and relief while connecting people to nature and to one another. This includes environmental restoration of the creek, providing more opportunities for the campus community and visitors to experience and learn about the creek, and creating additional accessible creek crossings.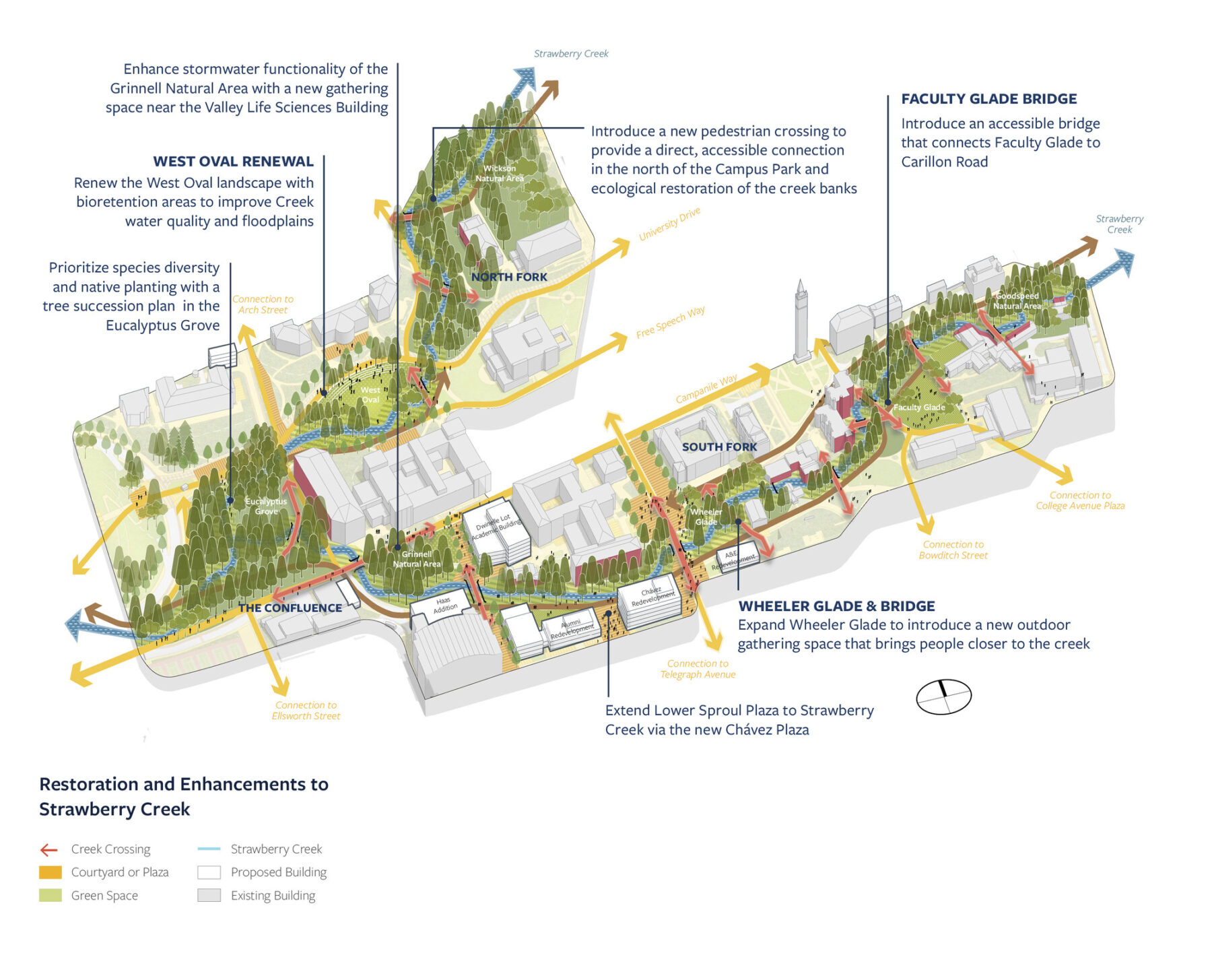 3. Discovery and Innovation
This idea focuses on academic life throughout the campus, introducing new spaces and facilities to promote collaboration and interdisciplinary discovery. The plan enhances existing academic neighborhoods through the introduction of interdisciplinary nodes that foster interdepartmental collaboration and build community, and proposes to improve wayfinding and encourage cross-campus collaboration by renewing key pedestrian and bicycle connections between academic neighborhoods
The interdisciplinary nodes are new academic buildings or space within existing academic facilities designed to bring together students, faculty, and staff from across academic departments and research units to collaborate, build community, and accelerate discovery. The programmatic composition of each interdisciplinary node would vary based on adjacent context and programmatic needs; however, each node would be located central within its academic neighborhood, in proximity to key pedestrian corridors.
The entire southern Campus Park edge is envisioned as a campus life corridor, which reinforces UC Berkeley's goal to support diversity and inclusion through a welcoming campus environment. This is achieved by introducing new open spaces and campus life buildings near the current heart of campus life at Sproul Plaza, to better support the wide range of programs, activities, and communities in which students, faculty and staff are engaged.  This campus life corridor comprises spaces that support community-building on campus, provide opportunities to promote recreation and wellness, and activate the public realm.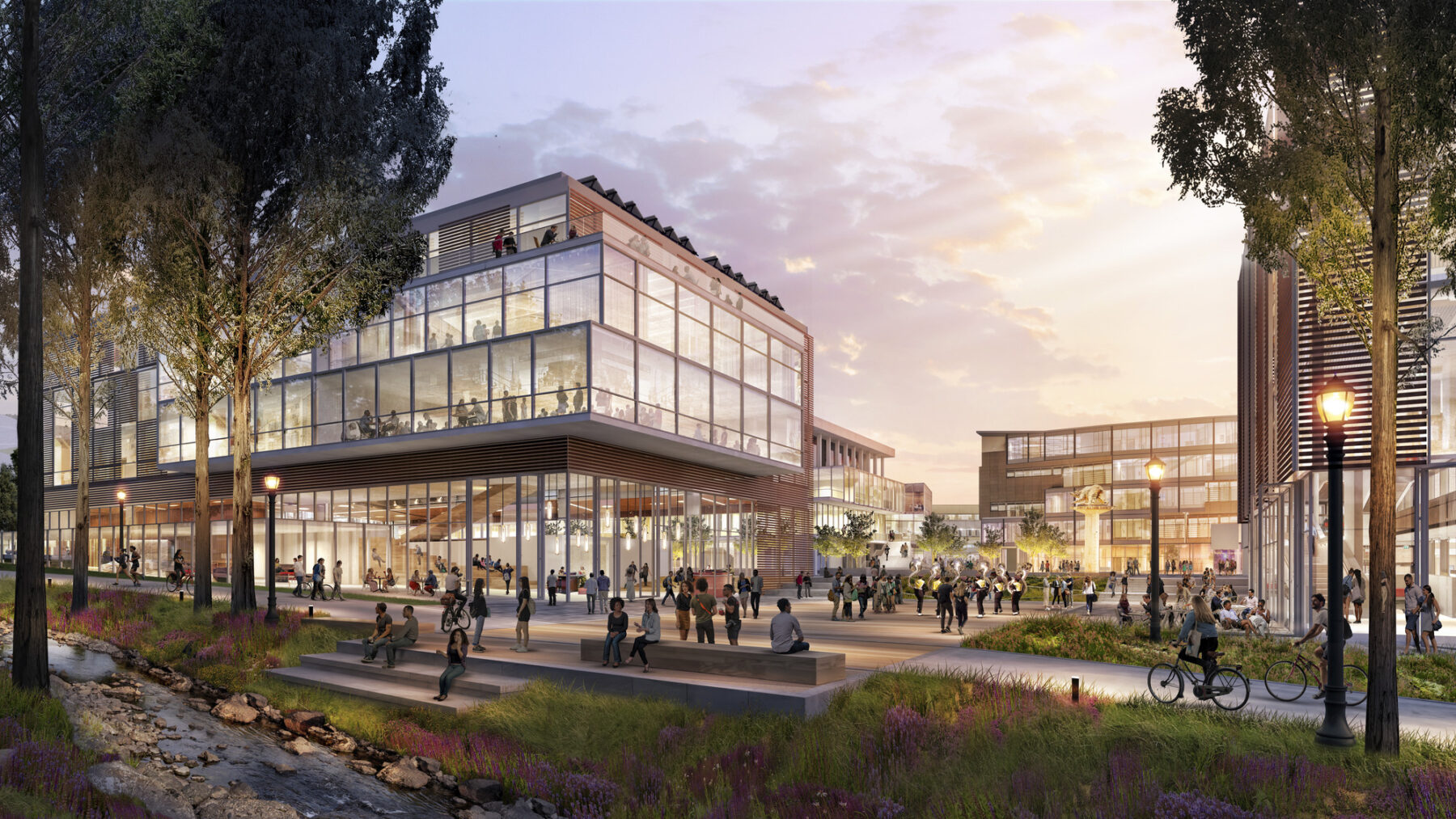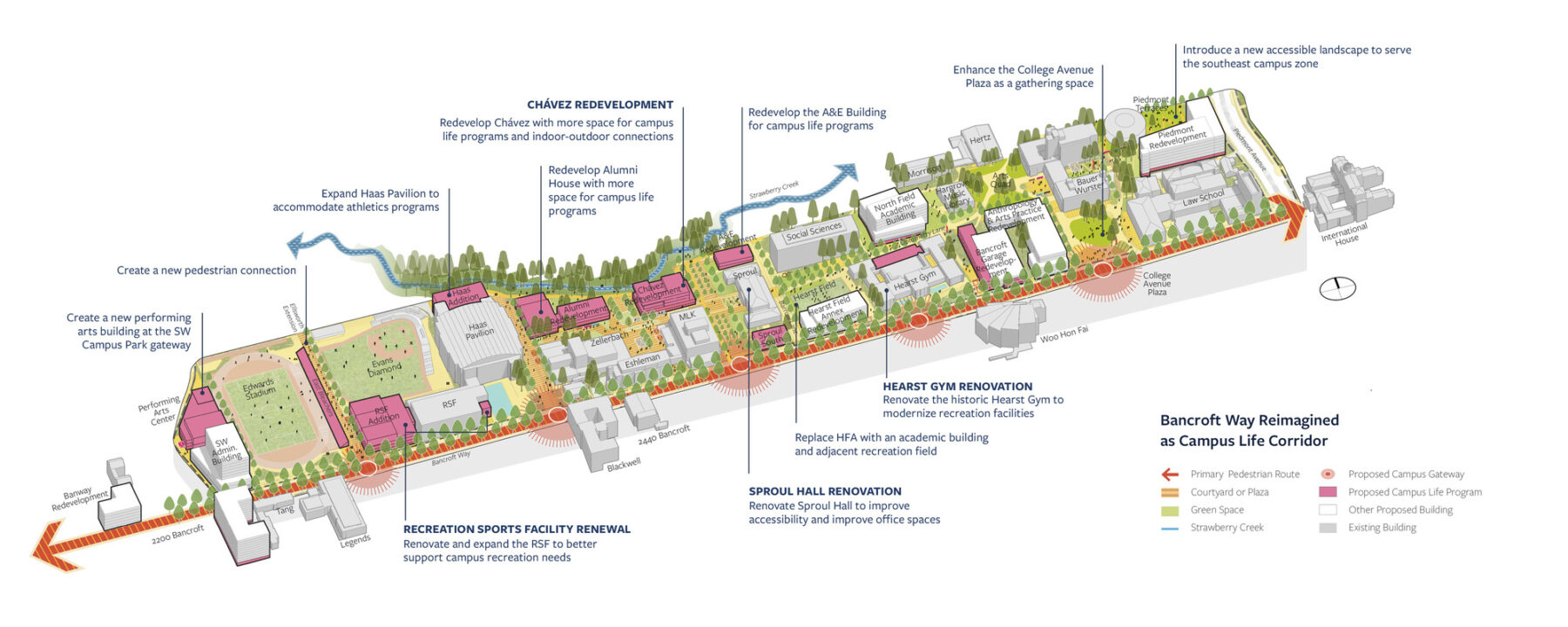 The plan unifies the campus experience beyond the Campus Park, presenting an opportunity for the UC Berkeley community to better engage with their surrounding context and remain easily connected to programs and activities.  Programs located on university properties outside the Campus Park comprise a combination of academic, research, housing, campus life, and auxiliary uses. UC Berkeley programs are most densely located on and adjacent to the Campus Park, but critical programs exist beyond its boundaries. This approach to creating a cohesive campus strengthens physical and programmatic connections across campus zones, bolsters the student housing experience, enhances campus life programs, improves connections to and from the Campus Park, and encourages partnerships with the City of Berkeley.
Proposed development is generally situated along the edge of the Campus Park, balancing the open space and lower-scale structures associated with the historic ensemble of buildings, referred to as the Classical Core. The plan relies upon both new construction and renovation to meet academic, campus life, residential, and campus support space needs. The plan prioritizes academic functions within the Campus Park with housing in close proximity, expands campus life spaces to create a welcoming environment, preserves and enhances the network of open spaces, and pedestrianizes the Campus Park.
UC Berkeley faces complex, significant challenges: a changing climate; the need for more housing; evolving learning environments and campus life activities; emerging mobility trends; seismic needs; and aging facilities. These challenges guided the development of the four Planning Frameworks: Buildings and Land Use, Landscape and Open Space, Mobility, and Sustainability and Resilience. While each framework is unique unto itself, collectively they work together to reinforce an integrated and cohesive vision that supports all campus populations. 
The planning process for the LRDP and Campus Master Plan occurred in parallel to ensure alignment between efforts. Engagement efforts included town halls, open houses, thematic workshops, interactive work sessions, ongoing stakeholder meetings, on-campus tabling, and accessibility and lighting tours.
Space planning was a foundational component of the physical plan and provided a quantitative assessment of facilities needs for the current and projected future campus population. For the Campus Master Plan, needs for various space types were assessed and broadly grouped within academic, campus life space, and housing categories. The need for instructional space was demonstrated through the current high utilization rates of classrooms, limiting pedagogical approaches and flexibility to support non-instructional programs.
While managed by the Office of Physical and Environmental Planning, two primary internal governance groups–the Working Group and Advisory Group–guided the process, while the LRDP Community Advisory Group provided sustained public engagement. Several topical resource groups were established to provide detailed feedback on Academic Life, Campus Design, Facilities and Infrastructure, Mobility and Accessibility, and Student Experience.
Digital platforms complemented in-person engagement and were essential to sustain the project throughout the pandemic. Digital and virtual engagements included the creation of a project website, survey, two custom virtual open house websites, and interactive work sessions aided by Zoom and Miro.