A visionary and implementable plan for a new academic campus in response to the region's economic, demographic, and environmental contexts
Sacramento State Placer Center Master Plan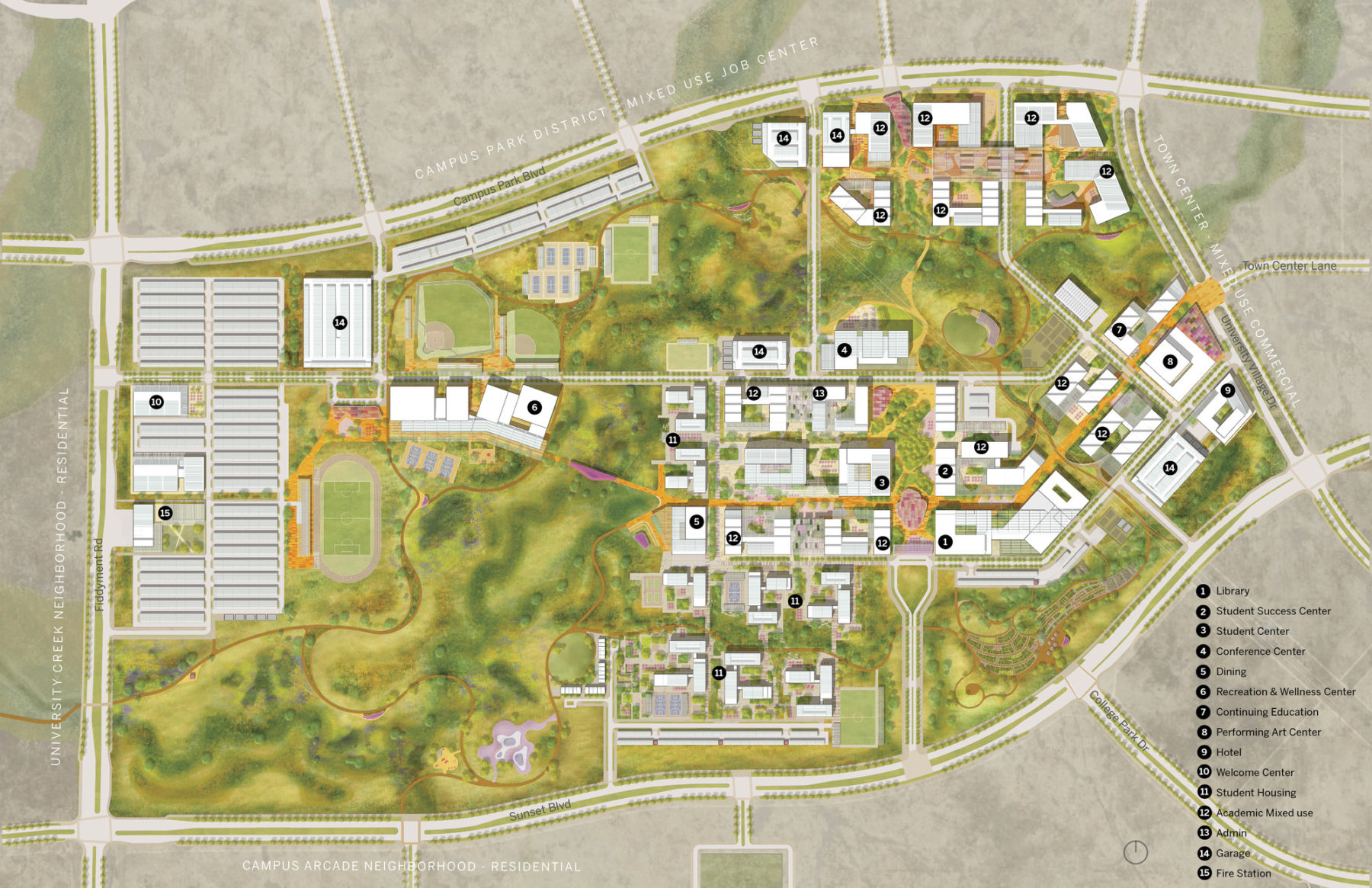 The master plan establishes a vision for Placer Center, a future anchor institution that serves Placer Ranch, Placer County, the broader region, and beyond, expanding access to four-year degrees and two-plus-two year programs. 
Placer Center is designed to be a comprehensive campus that is sustainable and forward-looking with the potential to grow into an independent CSU campus in the long term. With higher education partners at Sierra College, with the County, and outside industry, Placer Center exemplifies a new model of education, innovation, and community engagement for higher education.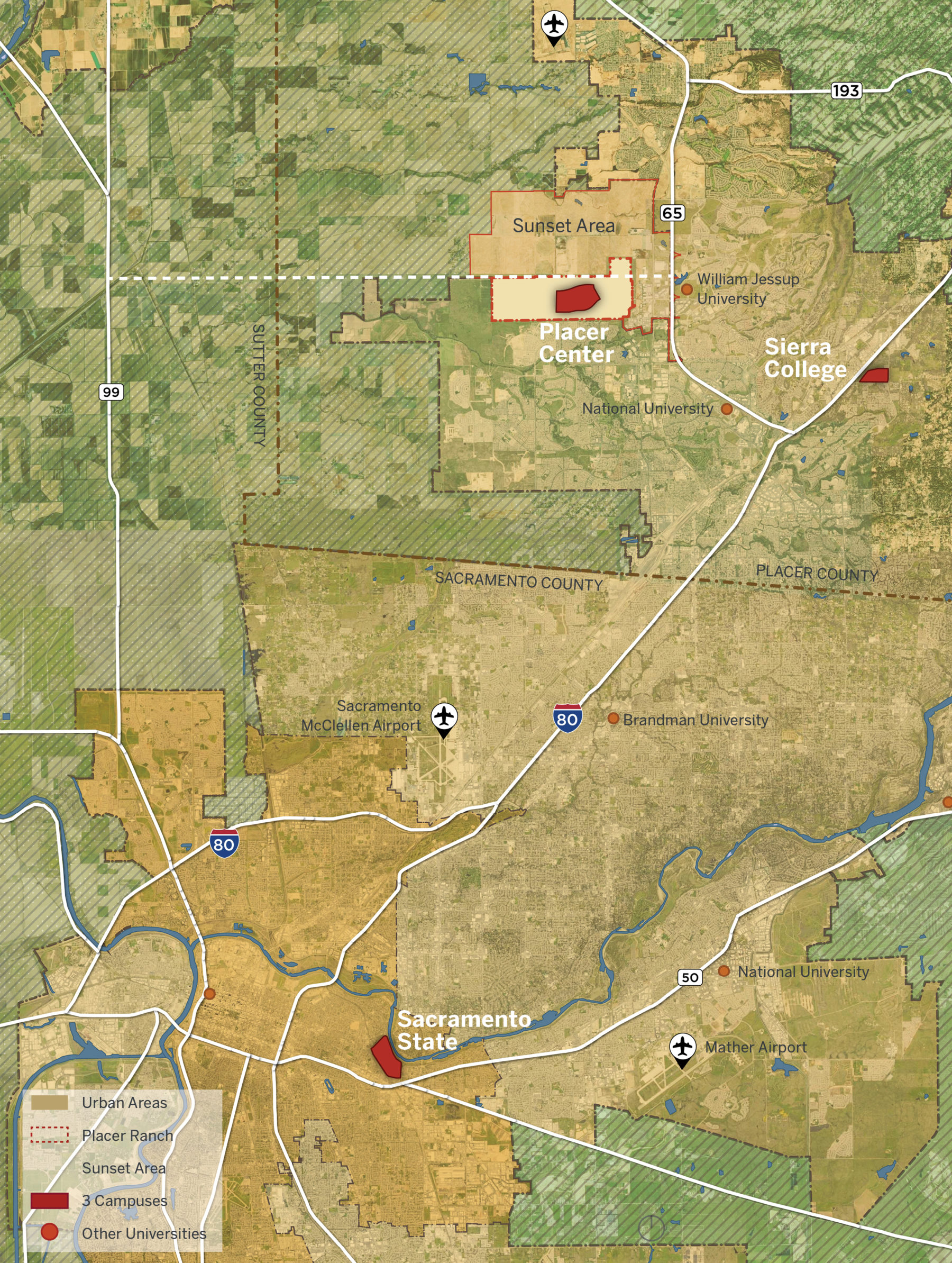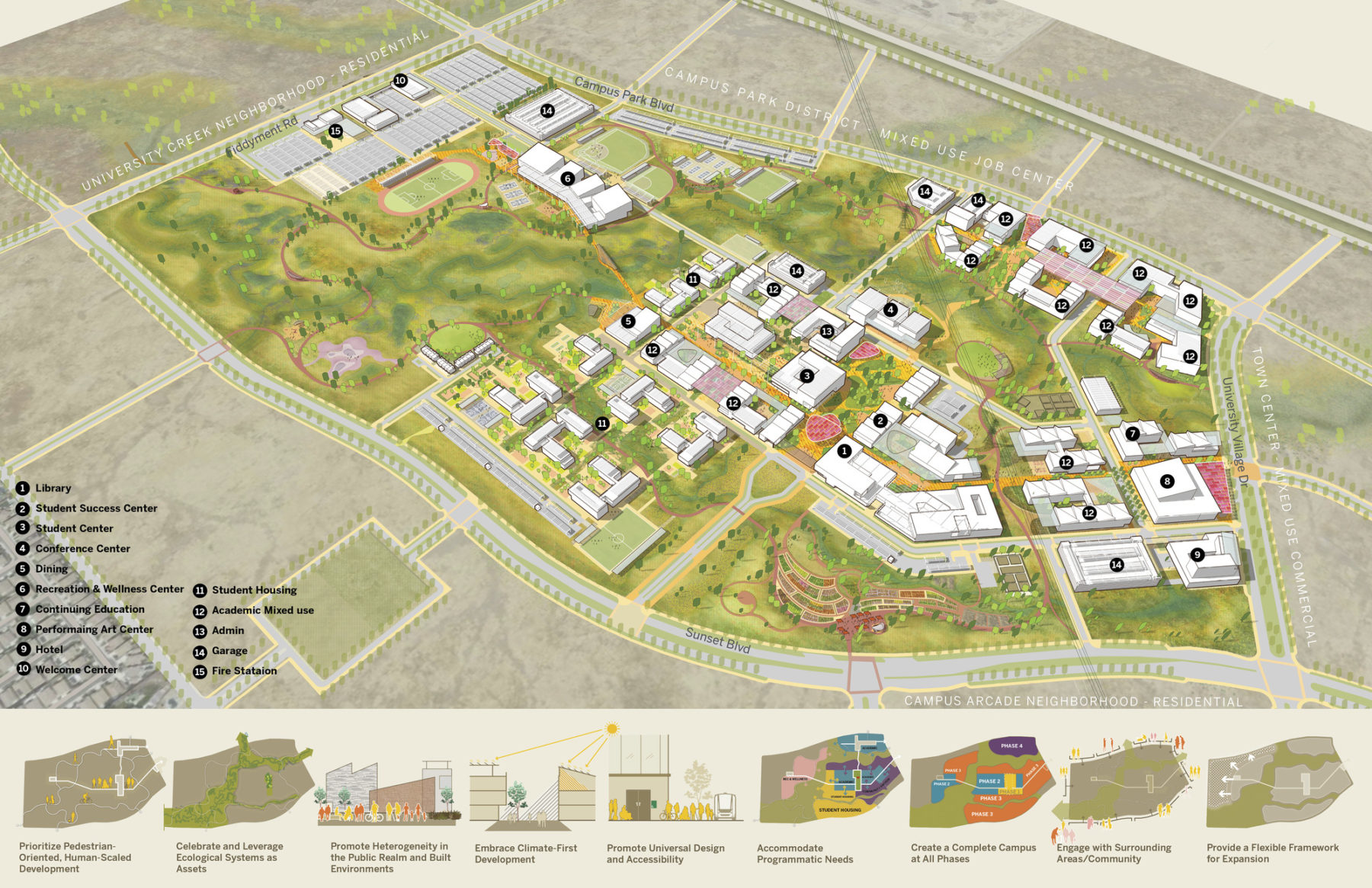 Inclusive and Comprehensive Planning Process
To successfully create a vision and roadmap for this new campus, the planning process required consultation, consensus-building, and coordination across multiple internal and external entities.
Stakeholders from Sacramento State, Sierra College, CSU system, Placer County, regulatory agencies, and decision-makers routinely engaged in the process through a comprehensive governance structure that included an Executive Committee; Master Plan Task Force; Developer Advisory Group; Project Management Team; and seven topical Working Groups comprised of Academics, Student Experience, Facilities and Sustainability, Mobility and Transportation, Image and Identity, and Equity and Inclusion. 
The process began in October 2020, prompting the team to rely upon creative virtual engagement strategies including Miro, Zoom, GoPro site visits, and drone footage. Extensive public outreach and engagement efforts informed the master plan vision, goals, and strategies, and included the creation of a project website; a Pinterest-like survey called Imagine Placer Center to aid in visioning; and the creation of a custom virtual open house website to solicit feedback on plan recommendations. Once safe to travel, the team conducted in-person open forums at both Sacramento State and Sierra College campuses including a virtual reality tour of the site, interactive large-scale plots of the plan, and feedback sessions.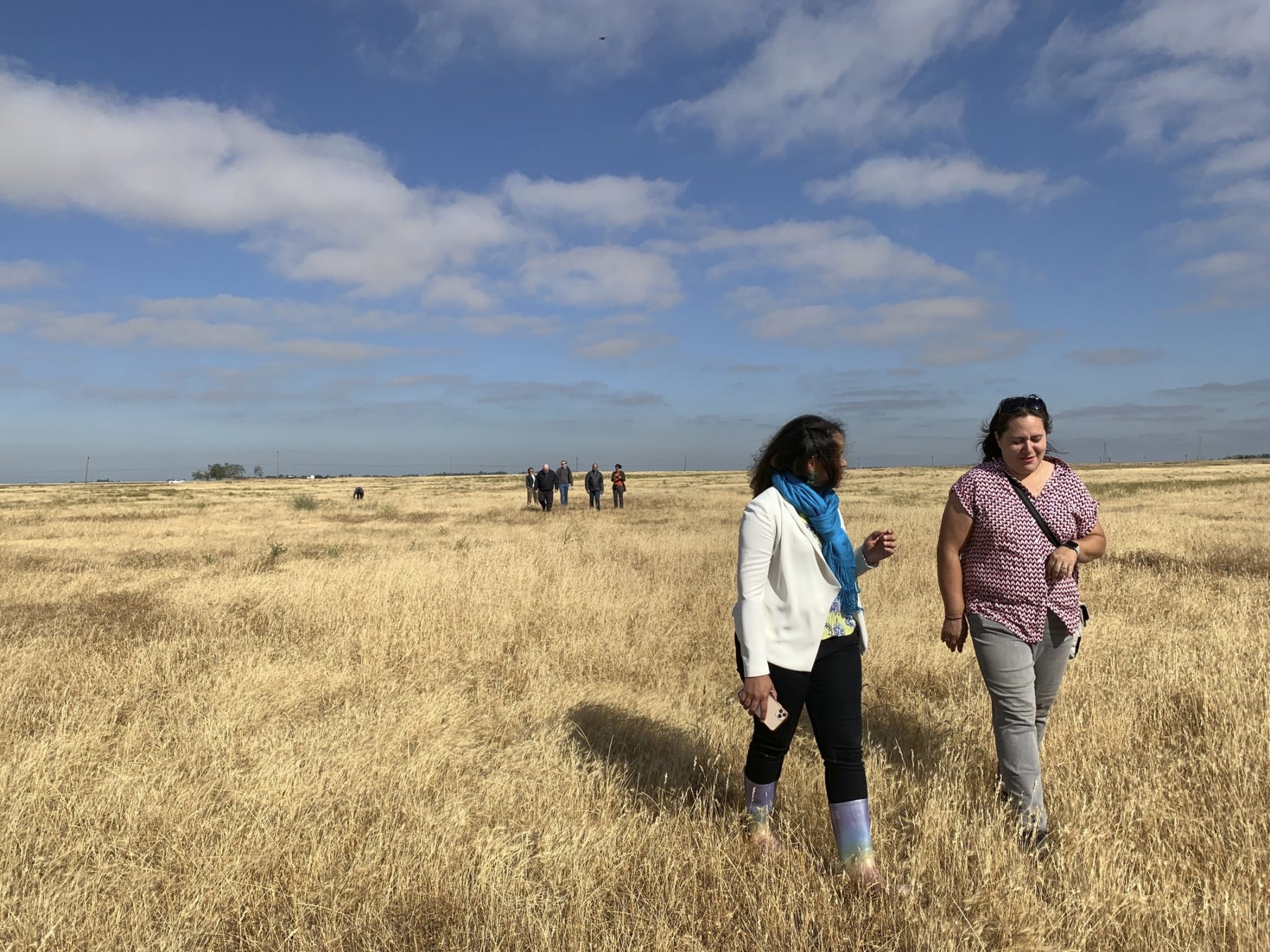 Landscape Framework
The 301-acre site is predominantly grasslands with ephemeral streams.  The undulating areas of grassland evoked a sense of ethereality, prompting the design of landscapes to reflect the existing "sea of grass." As an undeveloped site, the underlying site characteristics–including tree canopy, vegetation, and hydrological complex of vernal pools, intermittent streams, and seasonal wetlands–informed the developable area and were celebrated as defining campus features. The landscape framework for Placer Center includes the Campus Grove, plazas, courtyards, Polyculture Garden, green fingers, Paseo, sports fields, test beds, Campus Park, and Campus Loop Trail–and promotes placemaking; improves biodiversity; embraces restoration; provides resilience; encourages physical, mental, and ecological wellness; informs circulation; and is rooted in place. Landscape guidelines–including a plant list of recommended trees, shrubs, grasses, and herbaceous elements–were identified for each landscape type.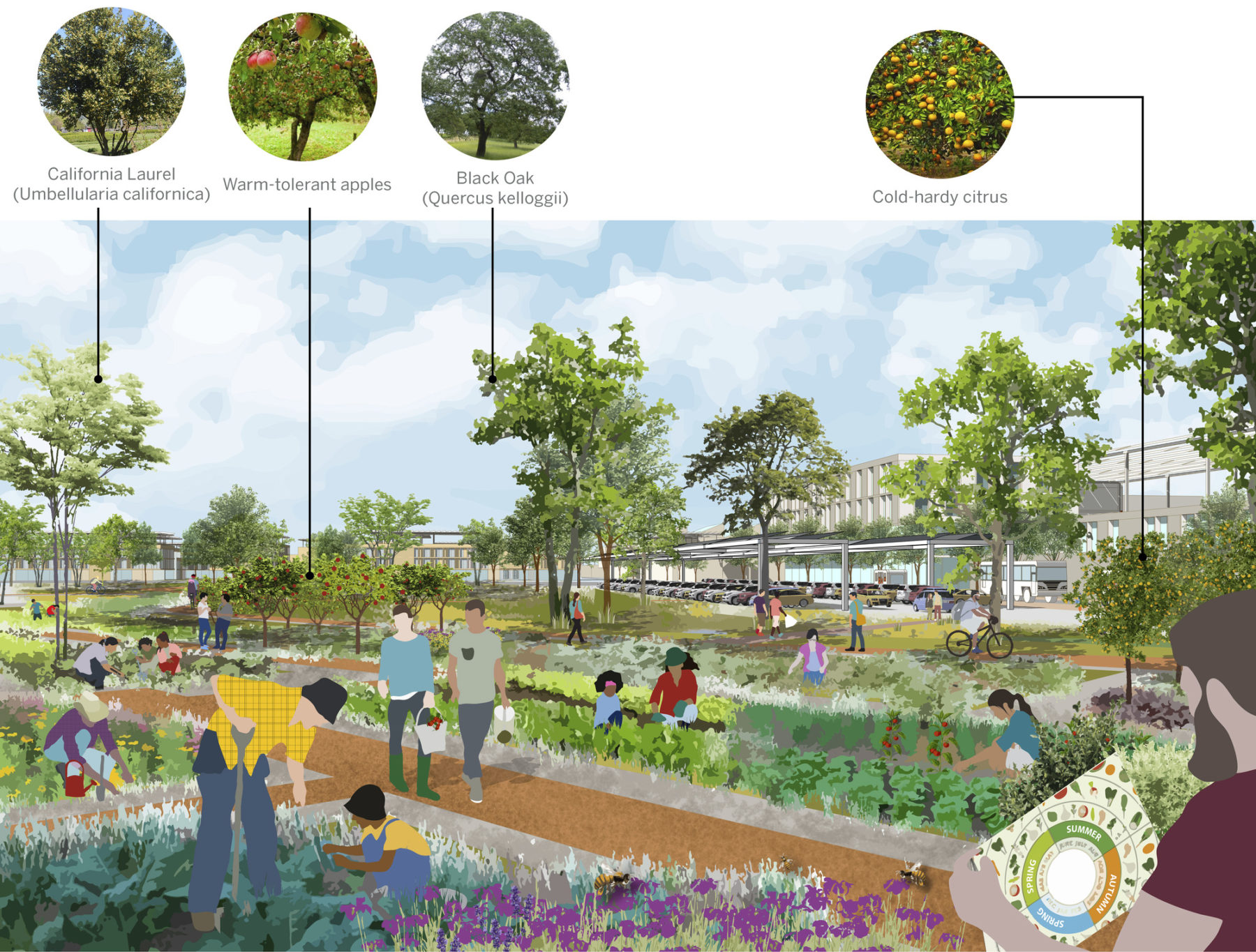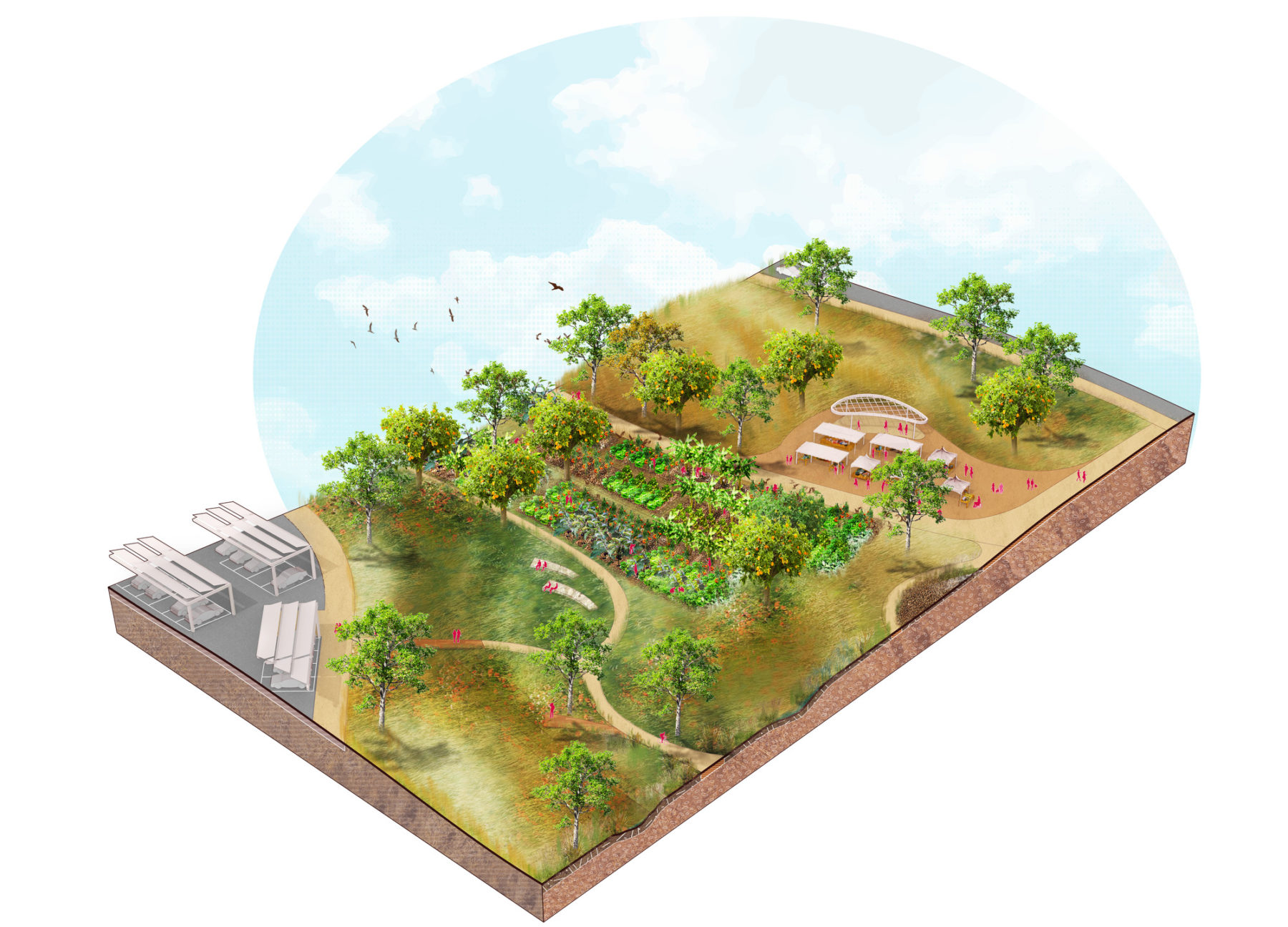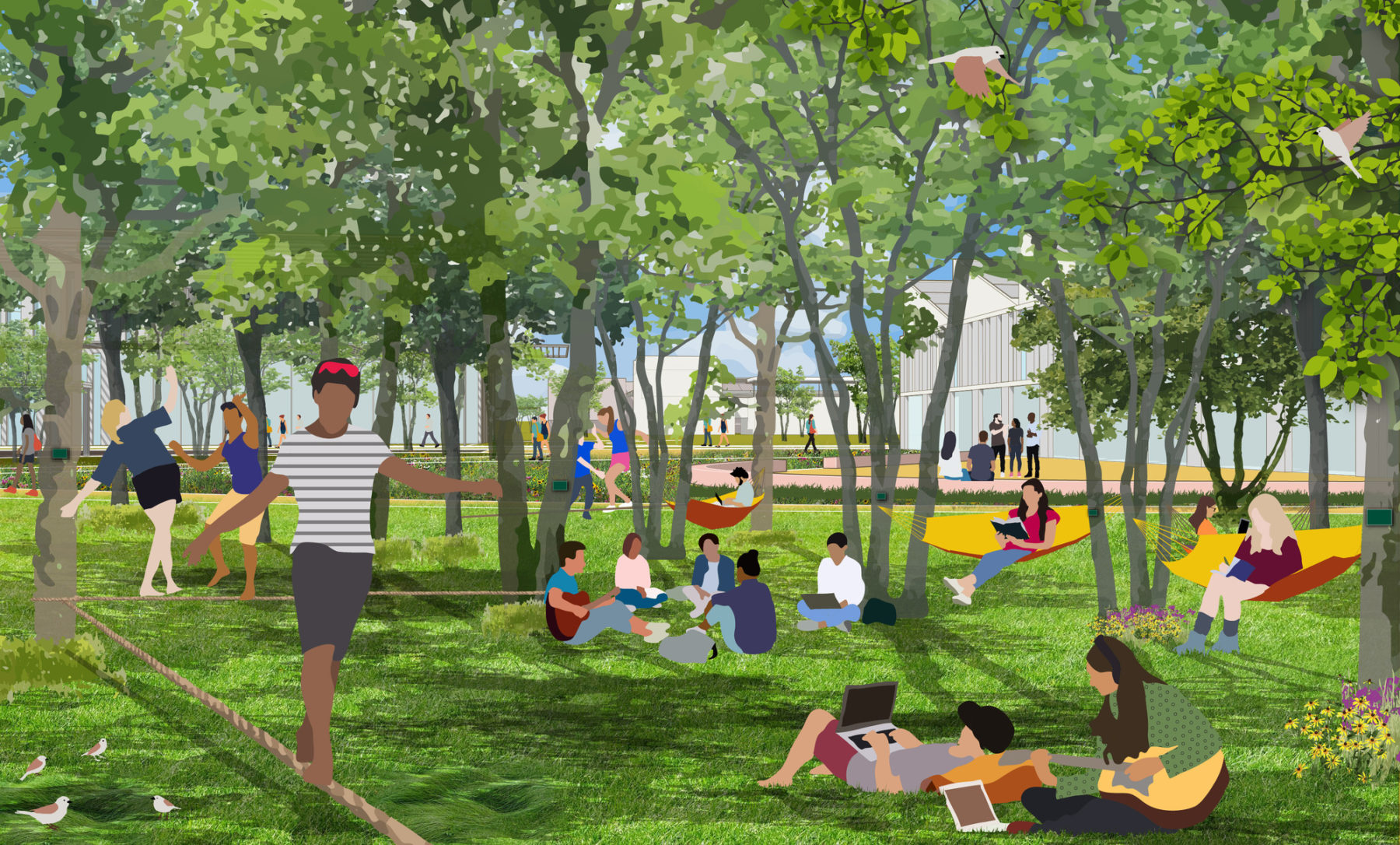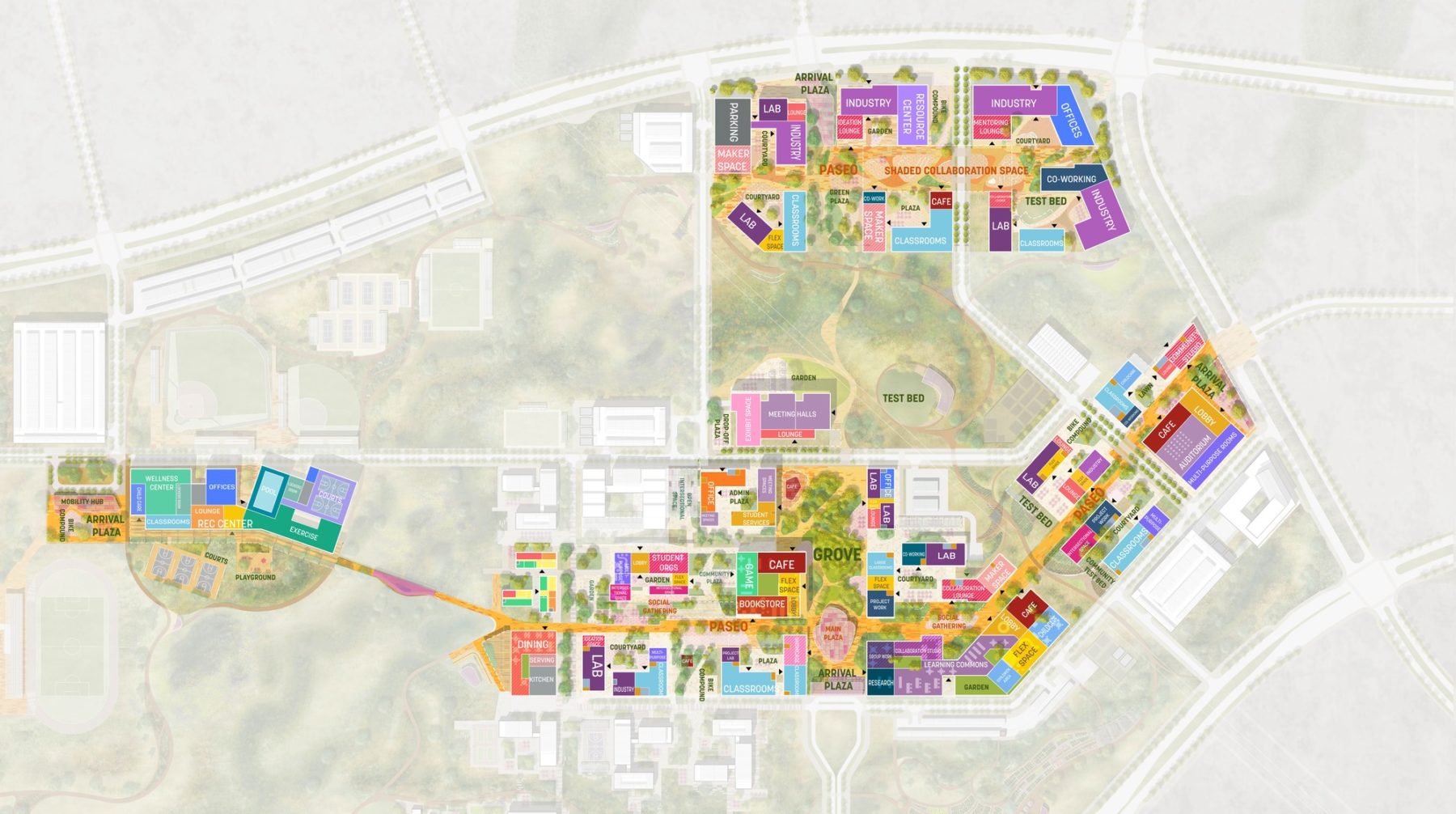 Placer Center promotes a holistic campus experience that supports students and the broader community alike. The life of the campus unfolds on the Paseo–the iconic pedestrian promenade–that links the Recreation and Wellness Center, sports fields, Amphitheater, Dining Center, Student Center, Campus Grove, Main Plaza, Student Success Center, Library, Performing Arts Center to the nearby Town Center. Transparent ground floors with active uses, abundant courtyards, vegetation and shade structures invite activity and encourage respite. Twelve-hundred student beds of varying unit types, faculty housing, affinity group spaces, childcare, mobility hubs, basic needs center, counseling and health services provide a comprehensive support structure.
Partnerships
The campus is rooted in partnerships with the community and industry. As an off-campus center, it is not eligible for capital funds and must rely on donations and support from industry and community partnerships. As a result, each building was considered through the lens of partnerships. Academic buildings are designed to promote collaborations with allied industries, while facilities with public benefit, such as the Library, Performing Arts Center, Recreation and Wellness Center, are considered amenities for the broader community. 
Sustainable Design Strategies
Working closely with our Facilities and Sustainability Working Group, the plan identifies sustainability goals and strategies for water, energy, waste, wellness, and resilience that exceed State and system policies.
Placer Center aims to be a net positive all-electric campus; achieve net positive water; align with the Living Community Challenge for Health and Happiness; and divert ninety percent of waste. With environmental shocks and stressors becoming increasingly prevalent–notably drought, poor air quality, power outages and increasing temperatures–Placer Center is equipped with design techniques, such as battery storage, on-site energy generation, passive building design, drought-tolerant landscapes etc. that create a resilient future.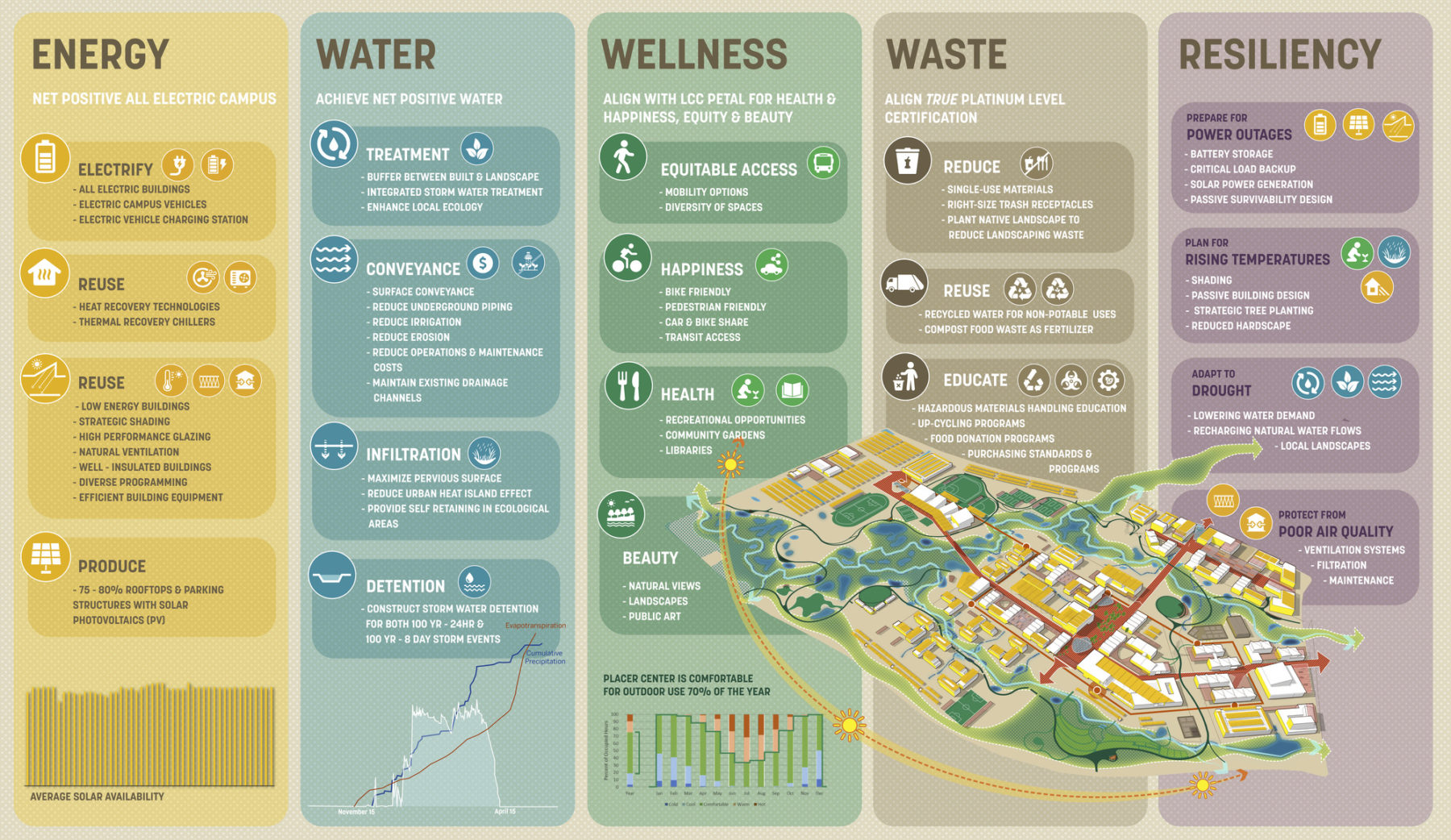 Inclusion, Diversity, Equity and Access
Placer Center aims to be a place where individuals can bring their whole selves to campus, and designing a new campus allows for inclusion, diversity, equity, and access (IDEA) to be included from the outset. Developed collaboratively with the Equity and Inclusion Working Group, the plan embraces the following inclusive elements
Narrative:  leveraging the built environment to celebrate diverse narratives

Accessibility:  promoting multimodal connections and universal design

Heterogeneity:  reflecting a range of building types, landscapes, and materials

Identity Expression:  offering spaces to explore and express individual and intersectional identities

Basic Needs:  providing infrastructure and services to ensure community well-being