Investing in and leveraging landscape to promote community, recreation, and to establish a visual identity that is rooted in the land and ecology of the region
University of Wyoming Campus Master Plan
The University of Wyoming Campus Master Plan—One Wyoming—reflects a shared vision for the future of its Laramie campus.
The shared vision is rooted in five big ideas—discovery and learning, returning to residential roots, the student experience, pedestrian-friendly, and the welcoming campus—and relies upon building, landscape, mobility and infrastructure improvements. With approximately 750,000 gross square feet (gsf) of net new construction, and 2.2M gsf of renovation, the plan succeeds in reviving its beloved but worn historic building stock and reconciling the need to create a contemporary and competitive campus environment with limited fiscal resources. The plan reflects its mission and identity as the only public higher education institution in the state; is rooted in place; modernizes the campus to meet the needs of future generations; complements and physically translates the strategic plan, Breaking Through; carefully stewards resources; and articulates goals and principles for physical planning that aid decision-making and project prioritization.
The University's mission acknowledges its role to provide accessible and affordable education, rigorous scholarship, economic development, and stewardship of its historic and natural resources. With access and affordability underscored as key priorities, the plan prioritizes renovation over new construction, promotes efficient building configurations, and emphasizes investment in campus landscapes to transform the campus experience. As the state's engine for education, the plan restores and repositions nine academic buildings to optimize their use and diversify learning environments, and expands the university's research district to increase scholarship, collaborate with industry, and support workforce needs.
Stewarding Historic Resources
UW has a rich, historic campus core with beautifully scaled and detailed sandstone buildings surrounding Prexy's Pasture, the signature campus landscape. The plan builds on this legacy by returning buildings to their original functions, restoring the campus's residential roots by enlivening and modernizing historic residence halls with systems upgrades and new social spaces. Historic academic buildings surrounding Prexy's are similarly revived with contemporary learning and social spaces. Complementing building restorations are improvements to historic open spaces including the Arts & Sciences Plaza and Fraternity Mall, which have been enhanced to reflect the dramatic beauty and climatic conditions of the region.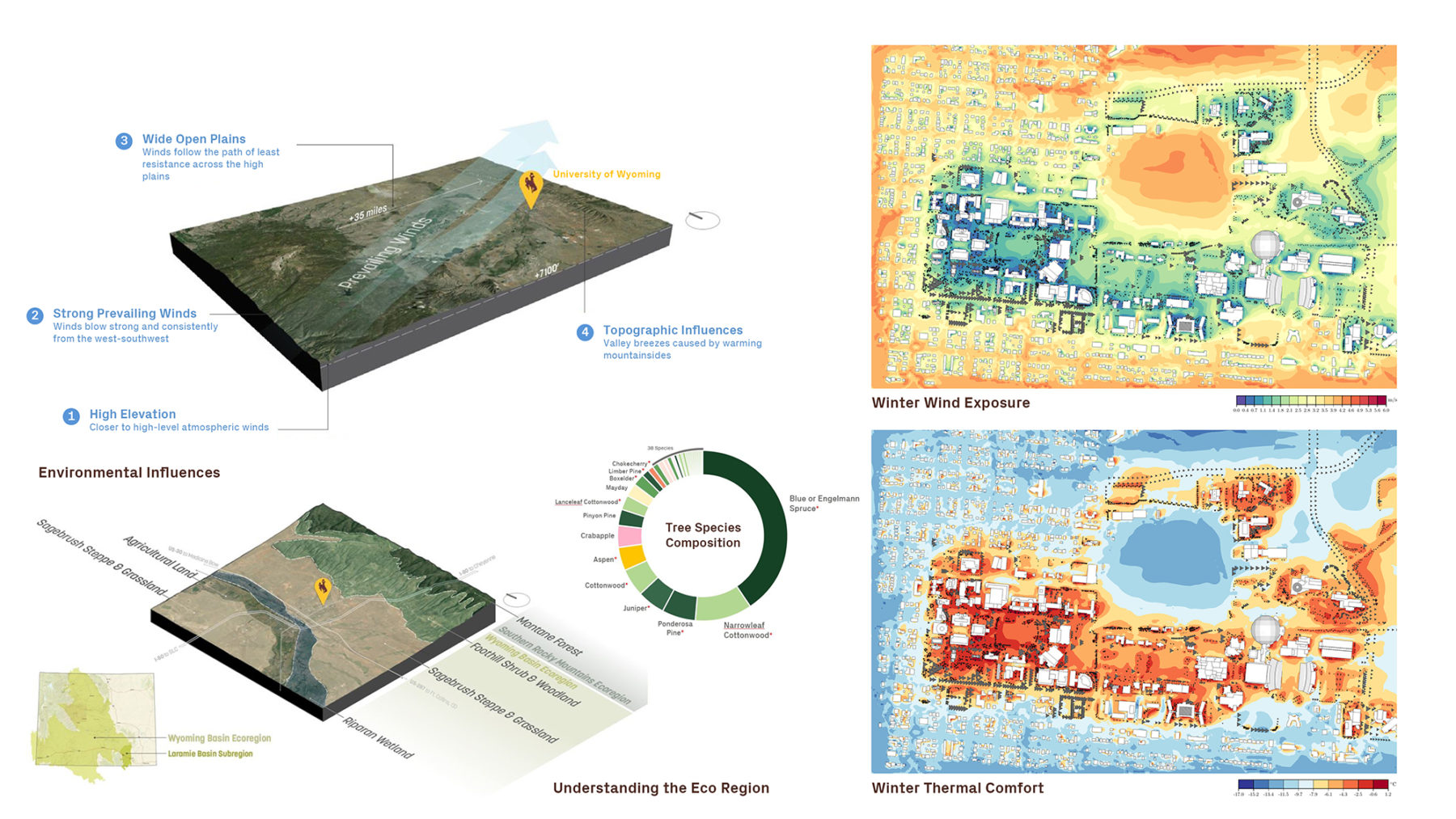 Student Success
Student success is at the heart of the plan. In an effort to reinstate a culture of living-learning communities, the plan restores historic residence halls to their original function, and introduces 2,000 beds of housing within the academic core. This neighborhood leverages the resources of the nearby Library, Recreation Center, and Union which gets renovated and expanded to support student engagement, while student services relocate to an adjacent one-stop shop. Additional athletics and recreation facilities are complemented by outdoor recreation fields and natural trails. Active ground floor functions connect to enhanced open spaces designed for use during all seasons.
Pedestrian-Friendly
For a region that spans long distances, the plan succeeds in pedestrianizing the campus by removing interior surface parking lots and vehicular routes, converting streets into promenades, and establishing a framework for open spaces and pedestrian connectors that knit together the east and west sides of campus, bridging the divide at 15th Street. "Boulderscapes" become the iconic identity for the pedestrian connectors, and incorporate native plant palettes. Open space improvements include a new Welcoming Lawn, re-programming and expansion of Fraternity Mall, Arts & Sciences Plaza activation to support uses during all seasons, and a park-like landscape through the research precinct.
Inclusive and Multifaceted Planning Process
As the only public higher education institution in the state, the plan needed to reflect voices from all corners of the state. With this objective in mind, the team set off on a 3-day outreach tour, traversing the state in the university's plane. We hosted events in Sheridan, Lander, and Rock Springs to hear from alumni, current and prospective high school students, community members, and major employers to understand what they love about their hometown, their needs, their relationship to the university, and how to make the campus inclusive and welcoming. We learned that Wyoming is big and beautiful, and that at its heart it's a 'small town with long streets.'
Back in Laramie, the university dedicated their Alumni House as the master planning headquarters to host meetings and interactive charrettes with State Legislators, Project Management Team, Executive Committee, Steering Committee, and seven topical Task Forces ranging from Campus Design to Learning Environments. In total, 106 students, faculty, staff, Board and community representatives from myriad departments participated in plan governance. Digital outreach and town halls provided additional campus and community engagement opportunities, and were complemented by informal mobile model outreach sessions.