Dynamic movement is the hallmark of this reimagined city square that knits together commercial development with the natural beauty of the area
Jinan Springs City Square
Mountains, springs, rivers, and lakes reaffirm Jinan's enduring ties to water.  The design of the Jinan Springs City Square was inspired by the vitality of the contrasting black and white striations in local stone, formed by the movement of water from the city's 70+ springs.  This 20,0000 sq meter plaza, situated at the juncture of a new commercial development and the Sasaki designed Central Business District Botanical garden gateway in Jinan, China,  seeks to inspire users throughout the four seasons by seamlessly knitting together a fresh experience of the commercial realm with the city's future botanical gardens.
Building on Sasaki's work within the Central Business District of Jinan, China, the Jinan Springs City Square is one of the first parcels under construction adjacent to the Botanical Garden identified in Sasaki's streetscape design for the larger CBD area. The design team sought to create a new vision for commercial experience on this site. Inspired by the inscribed movement on local stone we looked further into regional paintings and found stone flow often depicted as a gradient throughout these culturally iconic representations of landscape.
The design elements and materials enable people to experience a wide vocabulary of continuous movement. The project utilizes a variety of stone to express local characteristics: pavement, curbs, stairs, walls, seating elements, and planters all have a unique way of depicting motion. The design cleverly blends the challenges of the site's terrain and height into the site elements, and subtly restores the smooth motion of the spring in the pavement design. Planting moves throughout the levels of the site, showcasing each of the four seasons.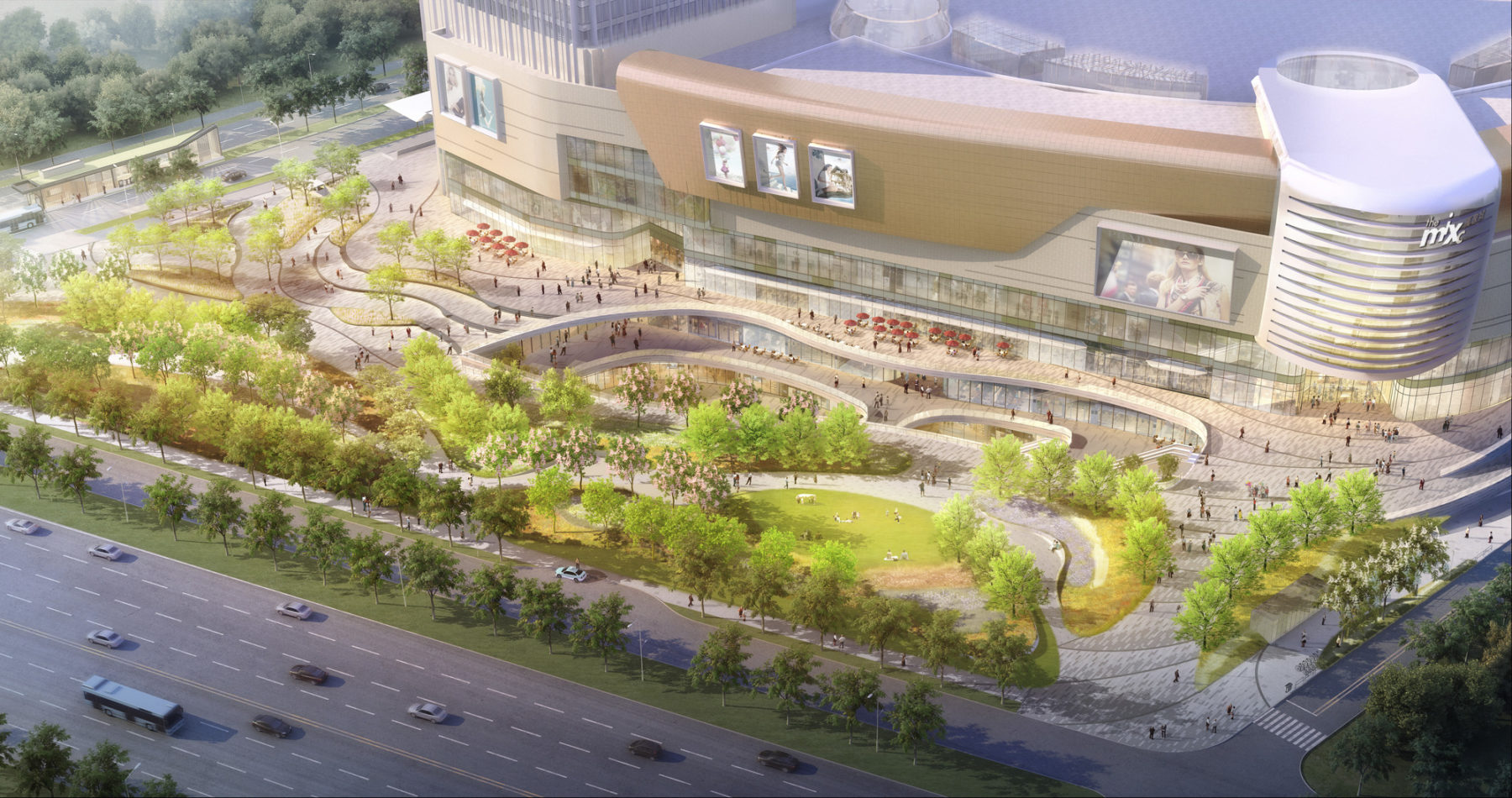 The main plaza is comprised of three parts: an eastern plaza entrance, a western plaza entrance, and a large sunken plaza in between. The middle plaza allows access to the main subway connector and two lower levels of retail, adding verticality to the flow and movement of pedestrians throughout the space. The botanic garden forms the southern boundary of the plaza.
A streetscape along the eastern side of the MixC development links the large central plaza to a smaller north entrance with additional points of entry interspersed. The streetscape also negotiates grade for pedestrian access with the newly constructed road alongside.
Constructability became an area of focus during the project, and the team embraced the challenge of translating the unique design concept into compelling technical details for all aspects of the project. Modular systems of pavement and walls were created to allow seamless construction across the expansive plaza.
The project creates an open interface with the city, and explores a new expression of iconography across the site.  Unique, smaller scale spaces and nooks encourage people to leisurely gather, chat, visit, and seek inspiration from nature.  Larger areas can accommodate festivals, concerts and other grand events.