Reincorporating the waterfront into the city
Charleston Waterfront Park
Working with city leadership for multiple decades, Sasaki has helped strengthen the public realm of Charleston, South Carolina through a series of planning, landscape, and architectural initiatives. When planning for the Charleston waterfront commenced in 1978, Charleston's older port facilities on the Cooper River had become obsolete and the upland activities had migrated away. Vacant land and buildings dominated areas just a ten-minute walk from the heart of downtown. The adjacent neighborhoods, which had grown up around the early port economy, were historically significant but languishing. The waterfront itself had been overtaken by surface parking.
The master plan for the Charleston Peninsula provided the framework for public and private development with the goals of bringing new life to the waterfront and providing a safe, attractive environment that would invite residents, visitors, shoppers, and business people to the historic downtown. The plan reclaimed surface parking lots and replaced them with two integrated urban garages, and defined a series of key redevelopment sites along the Waterfront Park.
Sasaki's subsequent design for the seven-acre Waterfront Park transformed the underutilized Cooper River riverfront into a long, curving expanse of green that includes a 1,200-foot promenade along the water's edge, recreational piers, shade structures, participatory fountains, lawns and seating walls, and quiet gardens under a grove of live oaks. The centerpiece of the park is the iconic pineapple fountain, a reference to the traditional symbol of hospitality in the south. A pier reaches out to the deepest waters of the harbor, offering choice fishing spots as well as colonnaded shade structures with traditional porch swings and benches. Restoration of native vegetation, including existing marsh grasses along the promenade that showcases the "low country" way of life, contributes to the popularity of the waterfront areas, and serves to protect the river's marine ecology.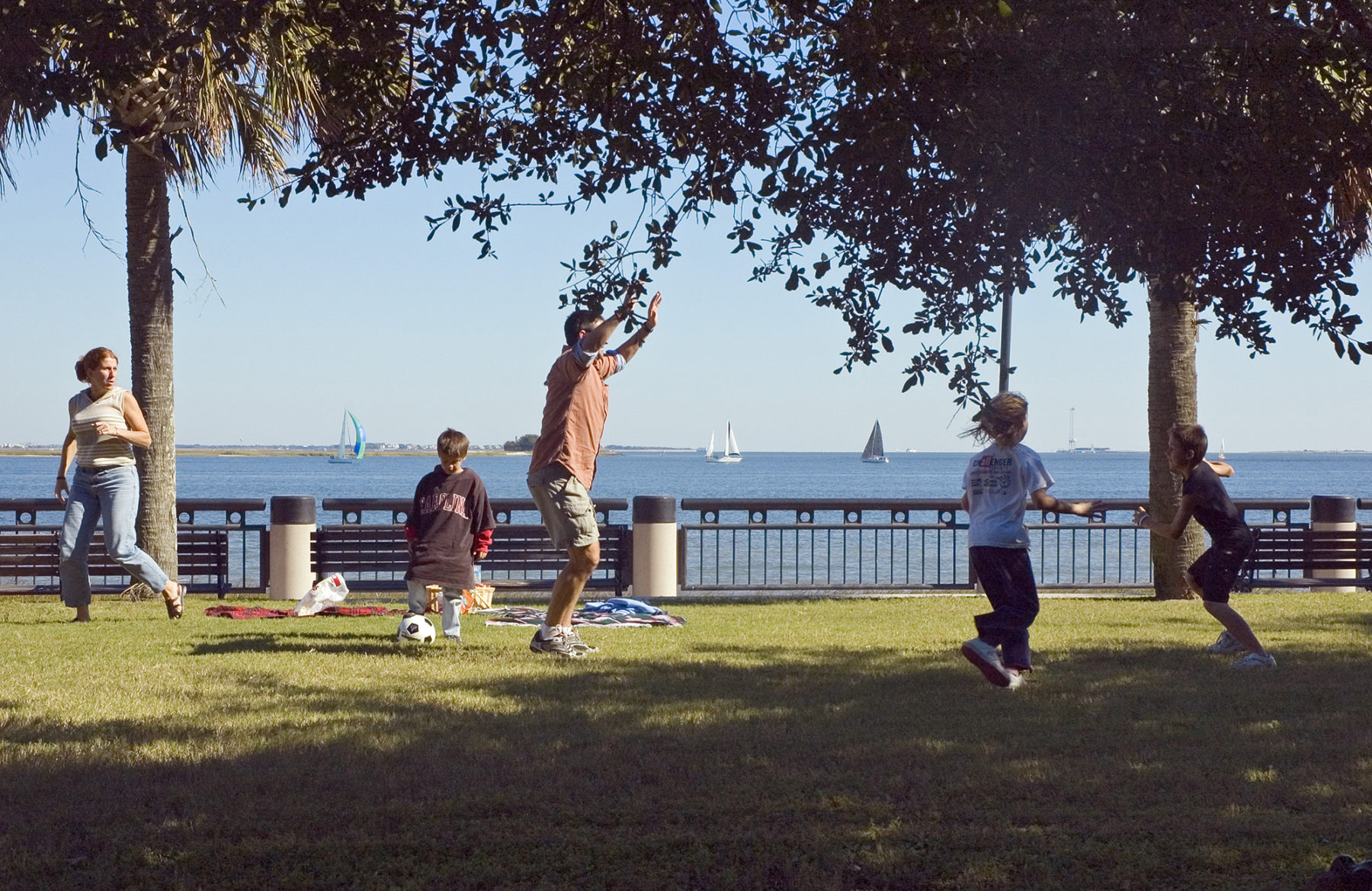 Named after the former mayor Joe Riley, Charleston's Riley Waterfront Park is one of the city's most popular parks for tourists and locals. Since opening in 1990, Charleston Waterfront Park has become a landmark—both for the city and for the profession of landscape architecture, earning a breadth of awards that includes the coveted Landmark Award from the American Society of Landscape Architecture. Another testament to the park's success is that the waterfront edge successfully withstood the full force of Hurricane Hugo just prior to opening and has continued to stand the test of time as a popular promenade with sweeping views of the Cooper River.