New pedagogy requires new approaches to campus: rethinking spaces for teaching, learning, and living for Mexico's largest university system
Tec 21: Reinventing the 21st Century Campus
In 2015, Instituto Tecnológico de Monterrey embarked on an ambitious program to rethink and reconsider the entire educational model at the core of the institution. Dubbed the Tec 21 Educational Model, the program is in direct response to the emergence of new ways of learning, and the prominence of digital tools in education.
Additionally, a core aspect was developing a pedagogical structure that contributes to the formation of extraordinary professionals with a deep commitment to society, rooted in a humanitarian worldview and with a keen appreciation of interdisciplinary and collaborative learning. Tec 21 assimilates the university's current context with aspirational goals to reimagine teaching and learning methods for the entire university system, and looks towards enhancing the abilities of the current generation to develop the skills required to meet the challenges of the 21st century.
Sasaki worked collaboratively with the University to develop an ideal spatial expression to the Tec 21 Educational model. The work included thinking at both the level of the overall campus environment to more detailed work at the scale of the learning environment. The latter included developing a toolkit of spaces that could be deployed on existing campuses, or in the planning of new academic buildings, to assist the University in implementing the new pedagogical model across existing infrastructure at the University's 29 campuses across Mexico.
The Tec 21 pedagogical structure is driven by three primary organizing elements:
Modules: these are comprised of next-generation instructional and research spaces primarily consisting of versatile active-learning classroom typologies that facilitate focused study in a structured environment. Typically designed to accommodate 20-25 students, the modules are located adjacent to spaces for collaborative and informal study and equipped with the necessary technology and infrastructure to support the development of specific competencies and/or disciplinary activities.
Challenge spaces: these facilitate student and faculty collaboration, project work, and brainstorming. Challenge spaces are organized into varied types, ranging from a collaborative room accommodating 2-4 students, to a multi-purpose shed for larger experiments and hands-on learning. The campus landscape is also treated as a challenge space and structured to facilitate testing and research.
Assessment spaces: these spaces are devised to provide consistent peer-to-peer feedback, faculty critiques, student displays, and exhibits. Assessment spaces are located in highly public settings to foster a culture of active engagement and are equipped with movable panels, screens, and flexible infrastructure that enables re-organization of the space to accommodate various scales of activities.
All 29 campuses within the system were evaluated, with the Queretaro campus selected as a pilot to test and integrate this new model. Puebla, a rapidly growing campus within the Instituto Tecnológico de Monterrey system, was a follow-up to Queretaro—both campuses presented the challenge to transform a vehicular-dominated insular campus into a pedestrian-oriented environment that integrates forward-thinking academic pedagogy of interdisciplinary, collaborative, and project-based learning with the holistic development of each student.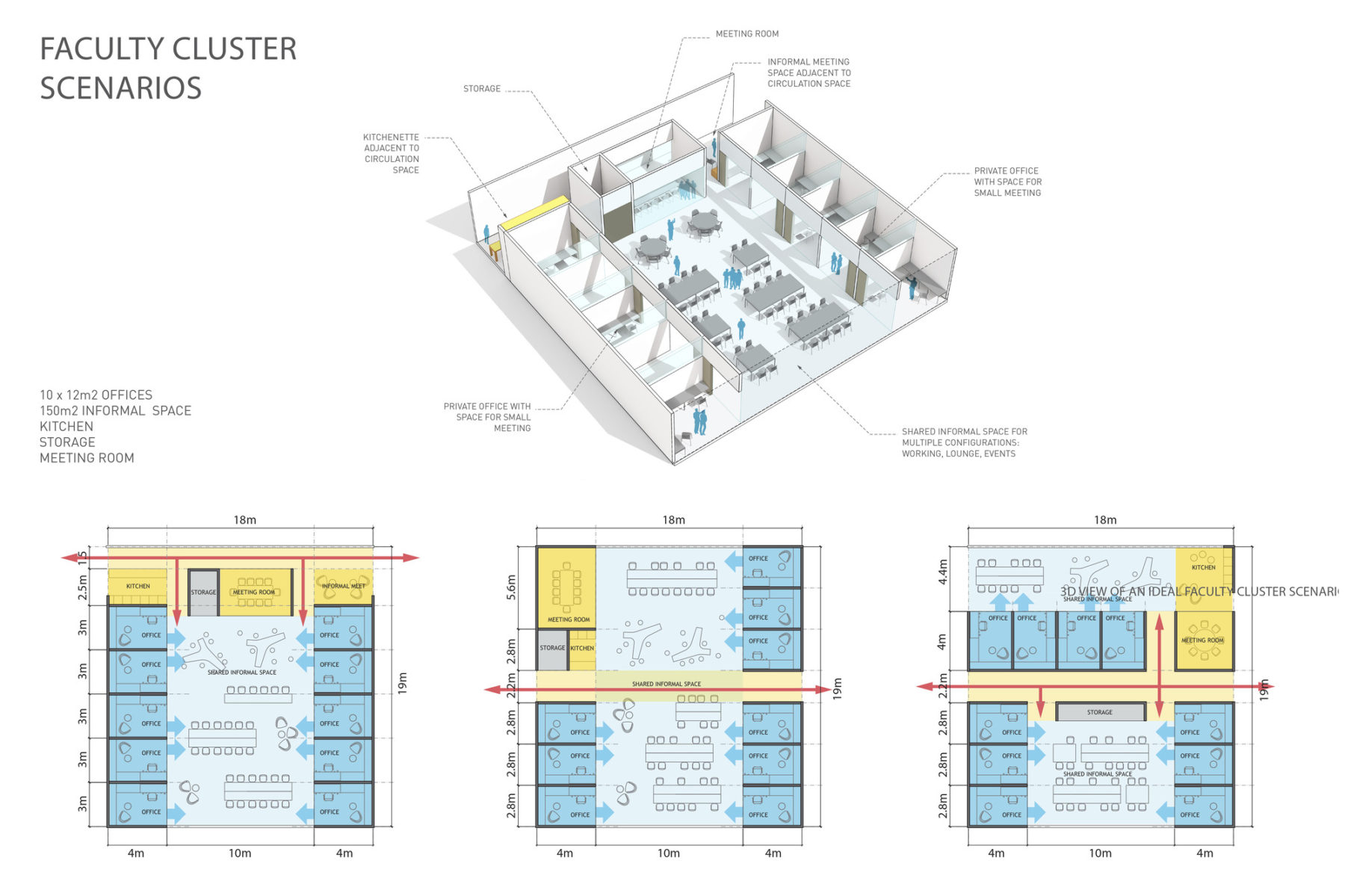 Tec 21 consciously disrupts existing silos of academic departments and faculties and instead looks to re-organize them according to disciplines they collaborate with, as opposed to disciplines they belong to. Interdisciplinary and inter-faculty collaboration forms a key structuring element along with the development of spaces for engagement with allied industry and the surrounding community. Instituto Tecnológico de Monterrey's challenge-based curriculum lets students work together to solve real-world problems—fostering intrinsic curiosity and a team-player mentality, all while showing the positive impact they can have on the world.