Denargo Market seeks to set a new standard for riverfront development in the Denver Metro area
Denargo Market Master Plan and Public Realm Development
The Denargo Market Public Realm will stitch together a gap in Denver's urban core by creating a new destination at the intersection of the RiNo Art District and downtown Denver. Denargo Market's 17 acres sit along the banks of the South Platte River and embraces a unique opportunity to integrate open space, public amenities, and mixed-use urban development to become a new dynamic day-to-night destination for Denver and the surrounding metropolitan area.
Sasaki is working closely with the client, developers Golub & Company and Formativ, the City of Denver, and civil engineers to deliver a new commercial and civic development typology along the South Platte River Trail. As part of a larger open-space network, Denargo Market will be a critical new link in the already diverse chain of existing public spaces along Denver's riverfront.
With connections to Cuernavaca Park, Commons Park, Confluence Park, and the RiNo Art Park, Denargo Market will be the new downtown gateway to the RiNo Art District.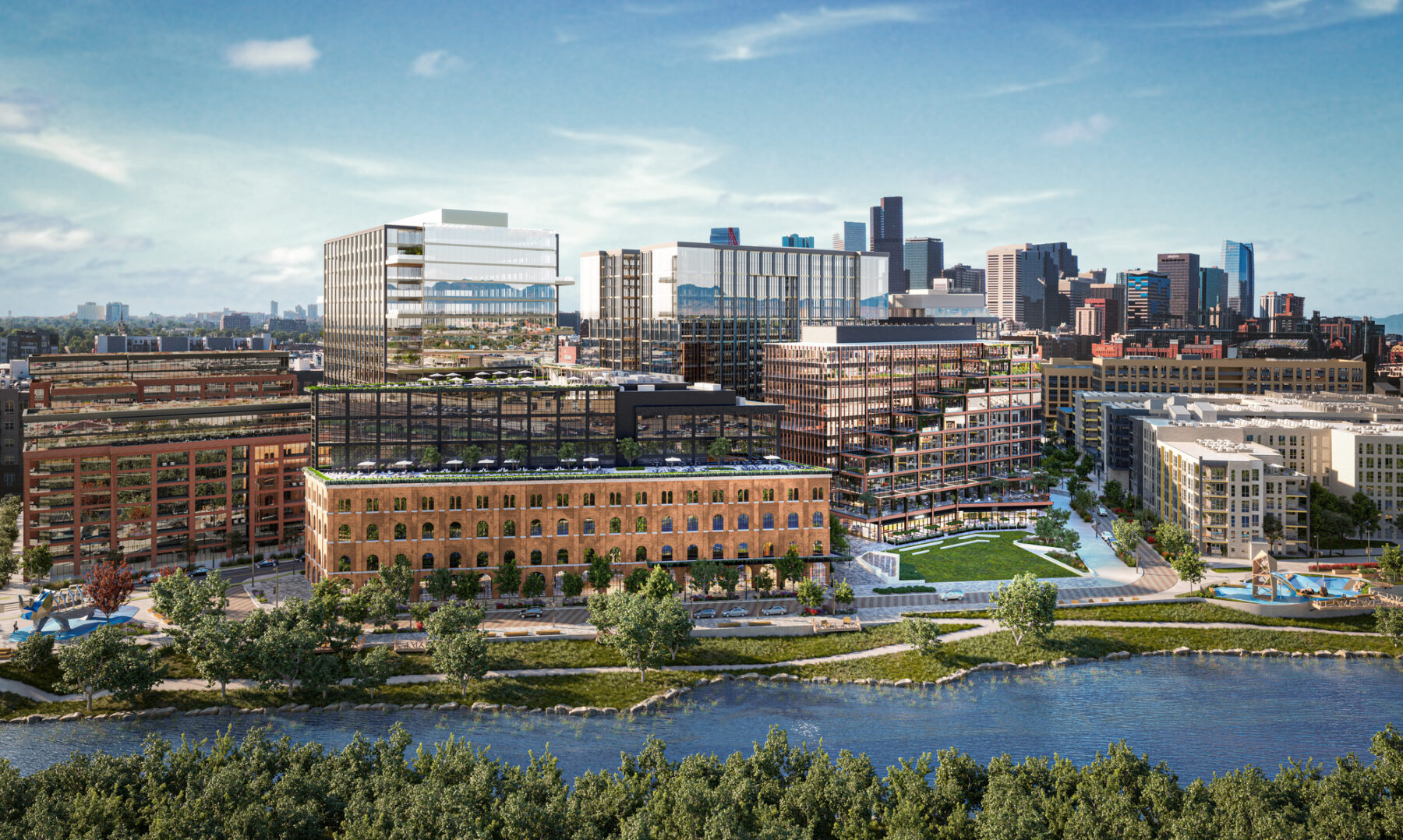 The site is programmed for year-round uses, with features supporting a diverse range of site amenities including riverfront overlooks, custom play spaces, a central event lawn, an interactive water feature, fire pit, community garden, sport courts, and dog park. These spaces are designed to be flexible to support placemaking and programming for surrounding residents, Denverites as a whole, and future office, hospitality, and retail tenants.
This public realm network ties together the largest urban infill project currently under development in the city. When fully built out, Denargo Market will support thousands of new residents in varying residential products and amazing office space supported by an extensive ground floor retail program.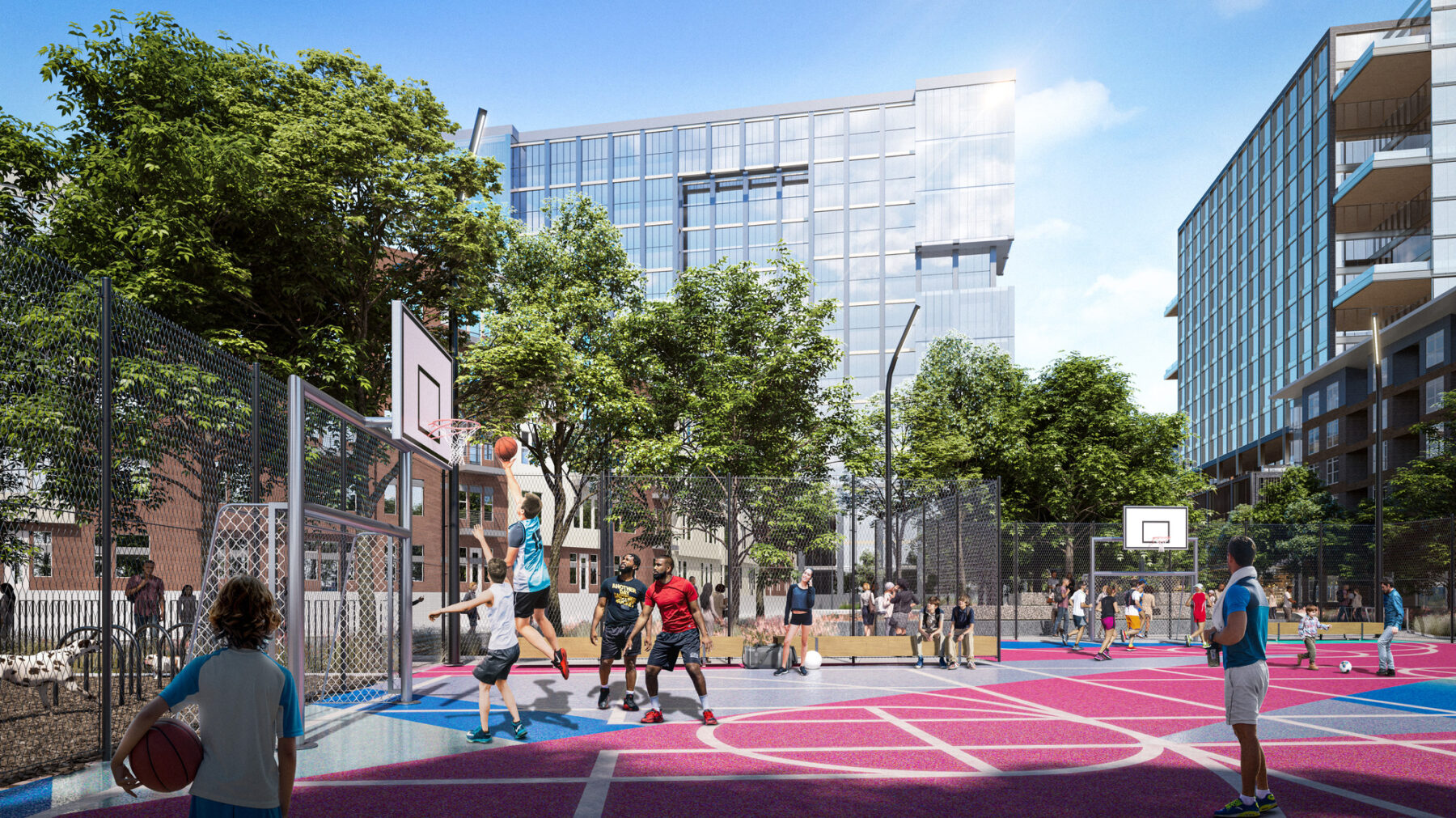 Along with the riverfront venues, Denargo Market's streetscapes integrate best practices for complete streets and look to expand the public transportation and multi-modal options in the area. Internal circulation focuses on prioritizing pedestrians and bicycles while allowing key vehicular traffic connections to retail spaces and access to future vertical buildings. 
Urban Meets Industrial Meets Wild
The unique locale and historic open-market use of the site presents a wealth of opportunity to draw inspiration. A refined industrial aesthetic comes through in the material selections which are softened with thoughtfully placed native plantings,  capturing and celebrating the spirit of Colorado's landscape. Positioned at the crossroads of Denver's urban core, the RiNo Art district, and the South Platte River Corridor, the Sasaki design team built the district's aesthetic around the mantra, 'where urban meets industrial meets wild.' 
The team also integrated artistic features – a custom climbing rhinoceros, playground tower, shade structures, and custom site furnishings – throughout the site while providing the infrastructure to support additional programming and installations specifically curated by the ownership team. 
Creating an Infrastructure Network
The existing site conditions presented a unique challenge to introduce new supporting infrastructure. The Sasaki team worked closely with project partners Martin & Martin to create a utility and stormwater network that met the City of Denver's requirements while allowing for the implementation of the innovative urban design vision. Given that there was no existing infrastructure on-site, the team coordinated an efficient utility layout without compromising the desired site programming.    
Alternative storm water management and water quality strategies include the use of rain gardens, detention basins, and an underground sand filter. All water will be treated and detained in a 4,760 gallon underground vault system before being discharged into the metro storm water system. 

The Denargo Market's groundbreaking took place in September 2023. Click here to read more about the first phase of development groundbreaking.