Introducing a vibrant 21st century innovation ecosystem into an urban campus
Tecnológico de Monterrey: Mexico City Campus Master Plan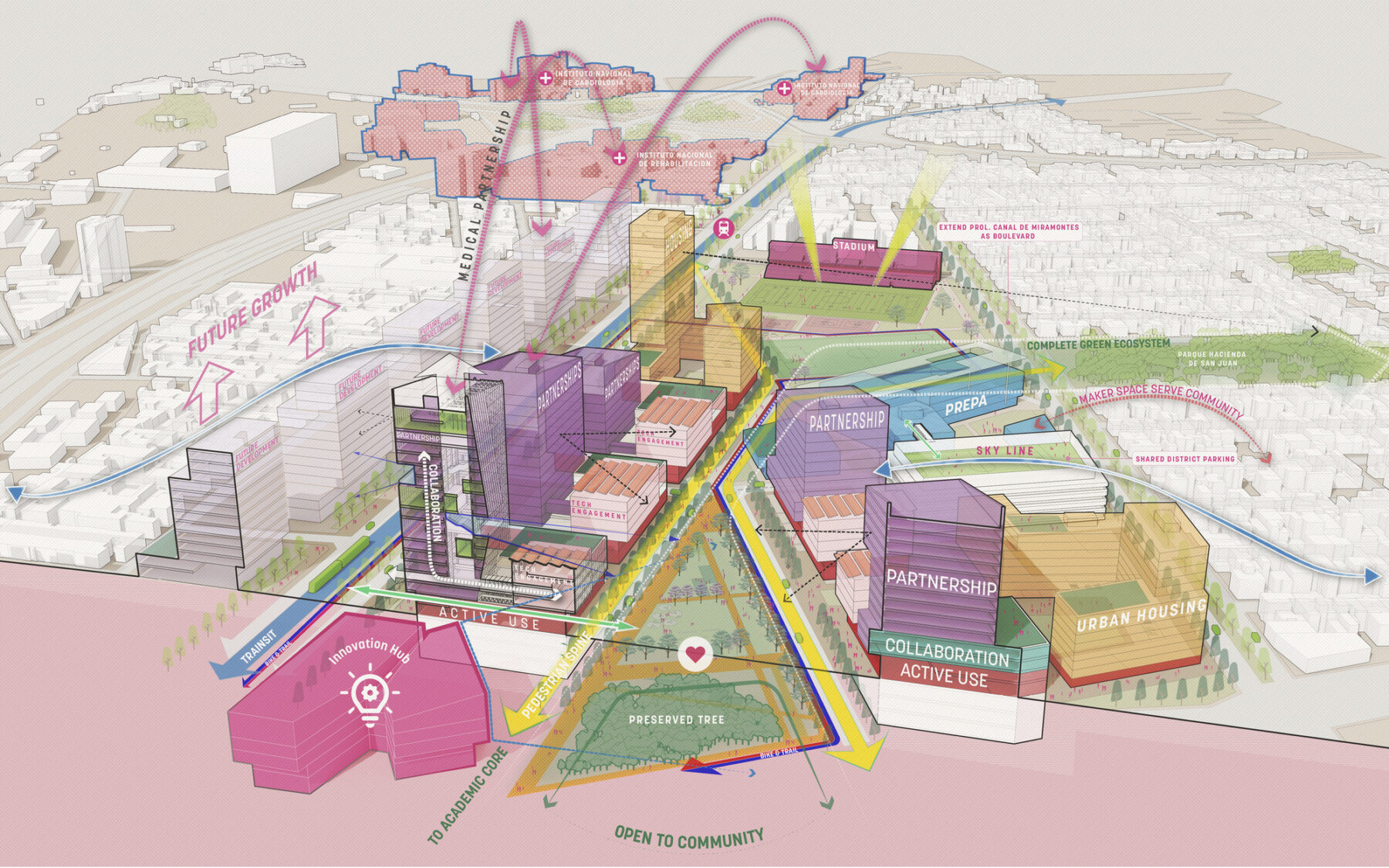 Following the devastating 2017 earthquake in Mexico City, when all but one out of eleven campus buildings were irreparably damaged, Tecnológico de Monterrey embraced the opportunity to completely reinvent itself and transform its urban context.
Located along one of Mexico City's major subway lines with proximity to the largest, yet landlocked, medical treatment and research cluster in Latin America, Tec de Monterrey is presented with the ideal environment to advance its institutional mission. An integrated planning process was set in motion, bringing together a wide range of stakeholders to create a vibrant 21st century innovation ecosystem in the district by leveraging the Tec's 34 hectares (84 acres) of land as a catalyst for regeneration and investment.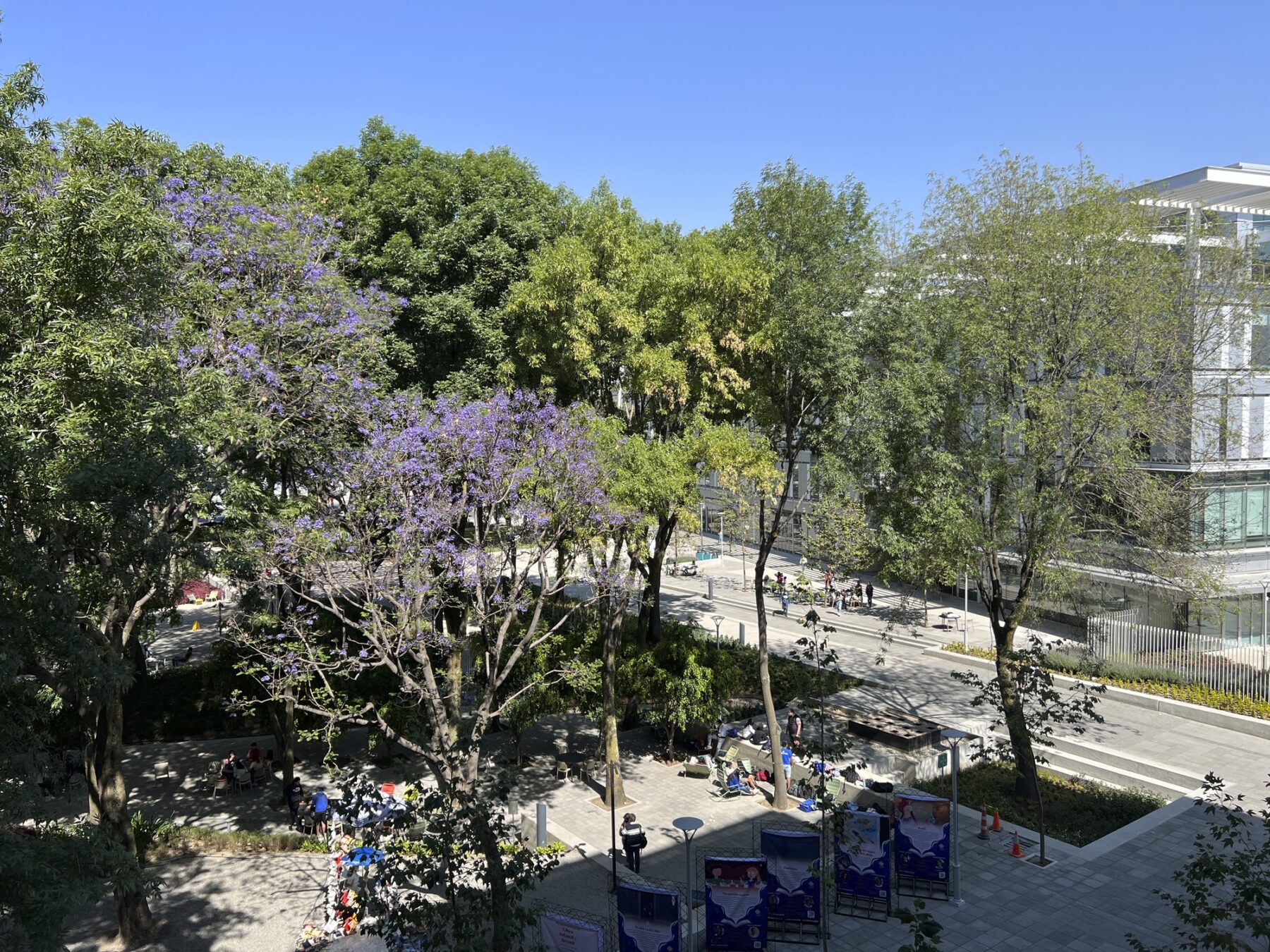 A Master Plan for Regeneration
Monterrey Tec, with an extraordinary and continuously expanding influence across the spectrum of Mexican education and society, is poised to become a leader in stimulating urban and economic regeneration and prove the power of Latin American universities as engines of innovation and entrepreneurship.
The Master Plan for the Tec's Mexico City Campus captures our ambition to rethink the relationship of the university to the surrounding urban setting; to make a new kind of contribution to the city, and to the country as a whole, and to rethink the nature of higher education in Mexico.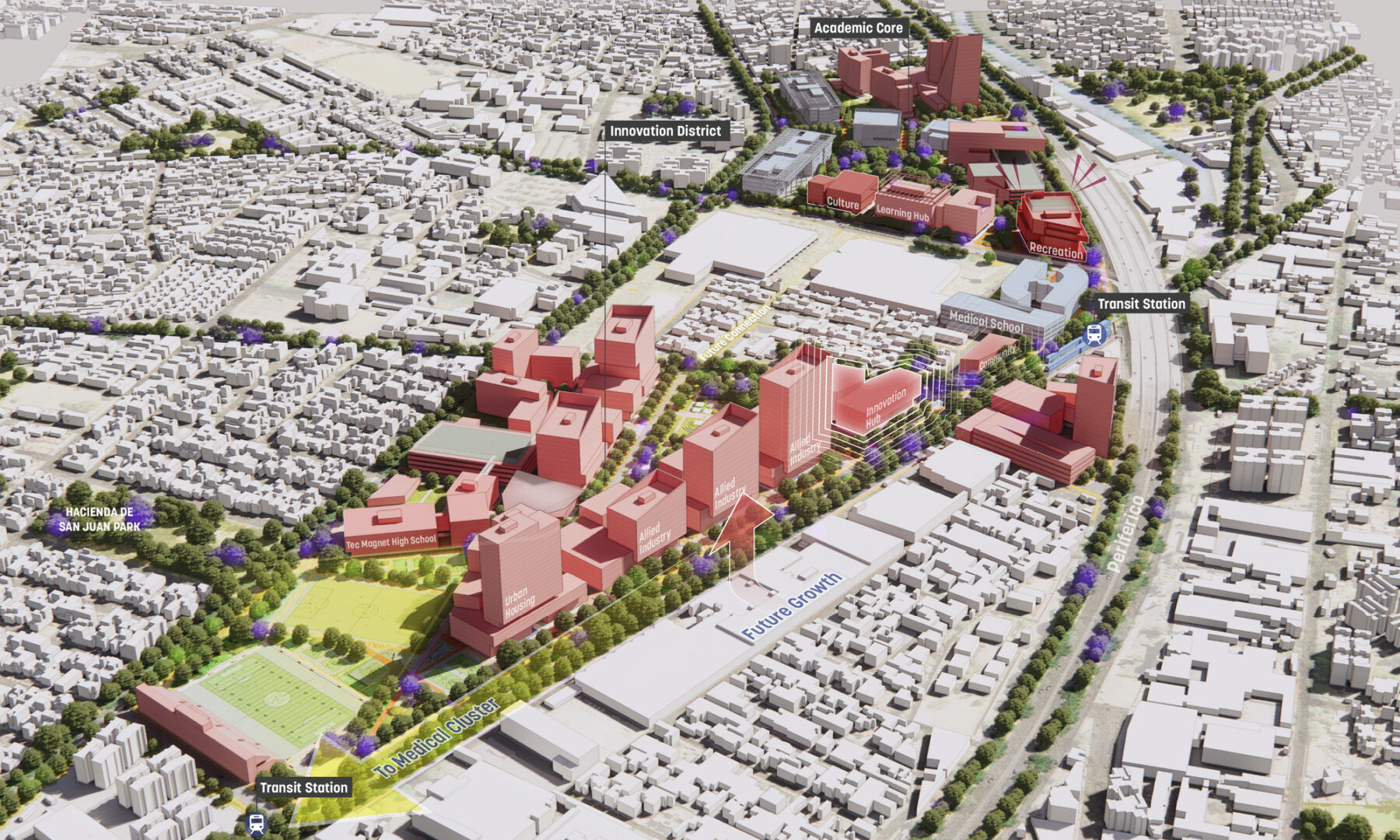 In the academic core, the plan creates a unified learning environment that encourages project-based learning and interdisciplinary collaboration. New academic buildings break down silos between departments and promote engagement between departments, such as the Medical and Engineering Schools, that leverage the proximity of the Tec with the neighboring medical cluster.
A focus on health and wellness is translated into a new state of the art recreation center located in a new campus gateway, that serves both the university and surrounding community, and integrates amenities such as a community clinic and nutrition center. Student housing, cultural facilities, hotel and shared workplace/office uses underpin a holistic learning environment.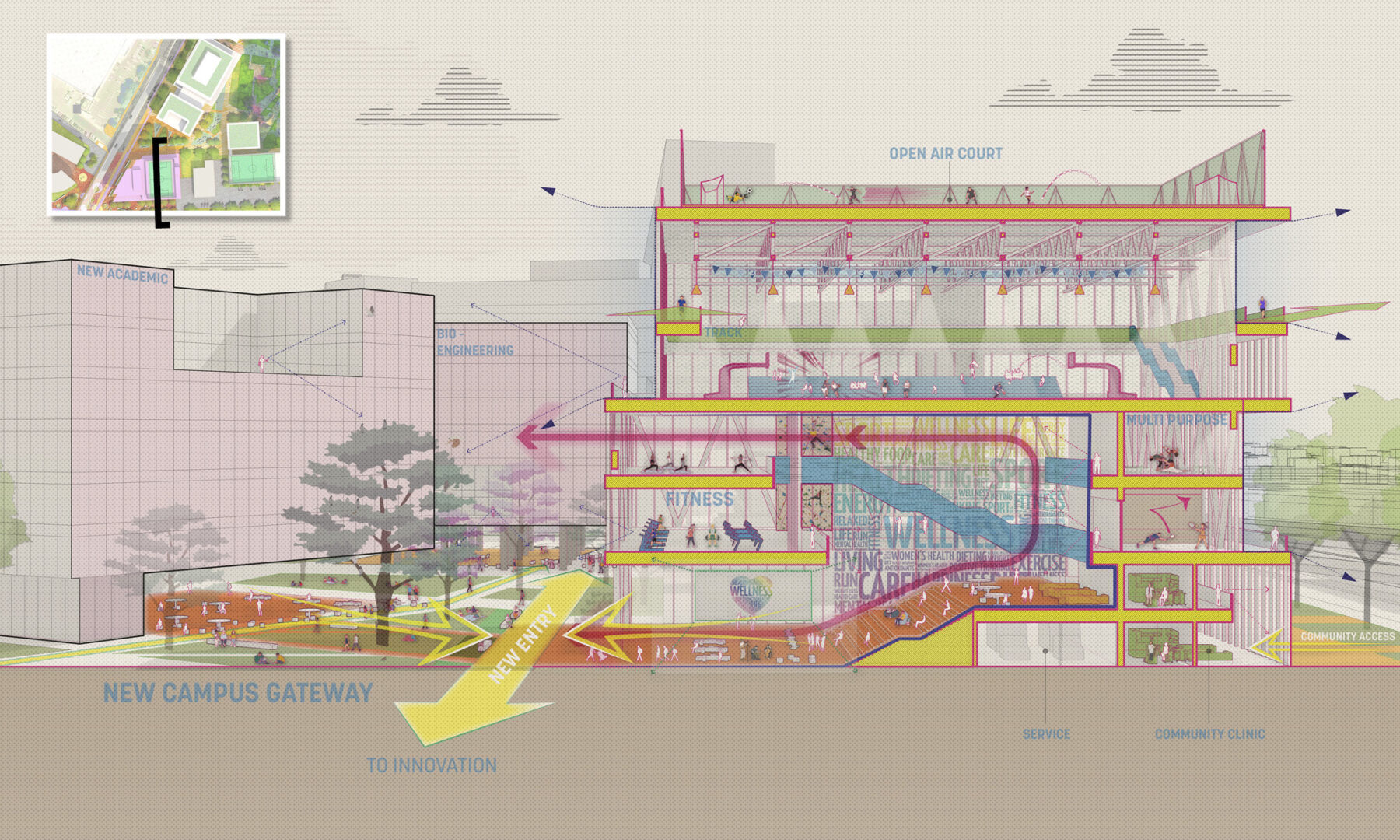 Adjacent to the academic core and on land owned by the university, a new innovation district provides a platform for allied industries to be co-located with the Tec. An interconnected open space network consisting of shaded sidewalks, bike lanes and a large public urban park provides the neighborhood with much needed outdoor sports fields, playgrounds and gathering places. Anchored by a Tec-driven Innovation Hub, the district also boasts a dynamic mixed-use program of research, workplace, housing, a magnet high school and other community amenities that support livability and a healthy lifestyle.
Now being implemented, the resulting plan is an inspiring vision that fosters collaboration and entrepreneurship, facilitates the rapid growth of research partnerships and stimulates engaged learning, all while re-engaging the university with its neighborhood and the larger Mexico City in an integrated, sustainable design approach.