Adaptive reuse repositions a 700 year old town near Shanghai into a 21st century hub of activity
Panlong Tiandi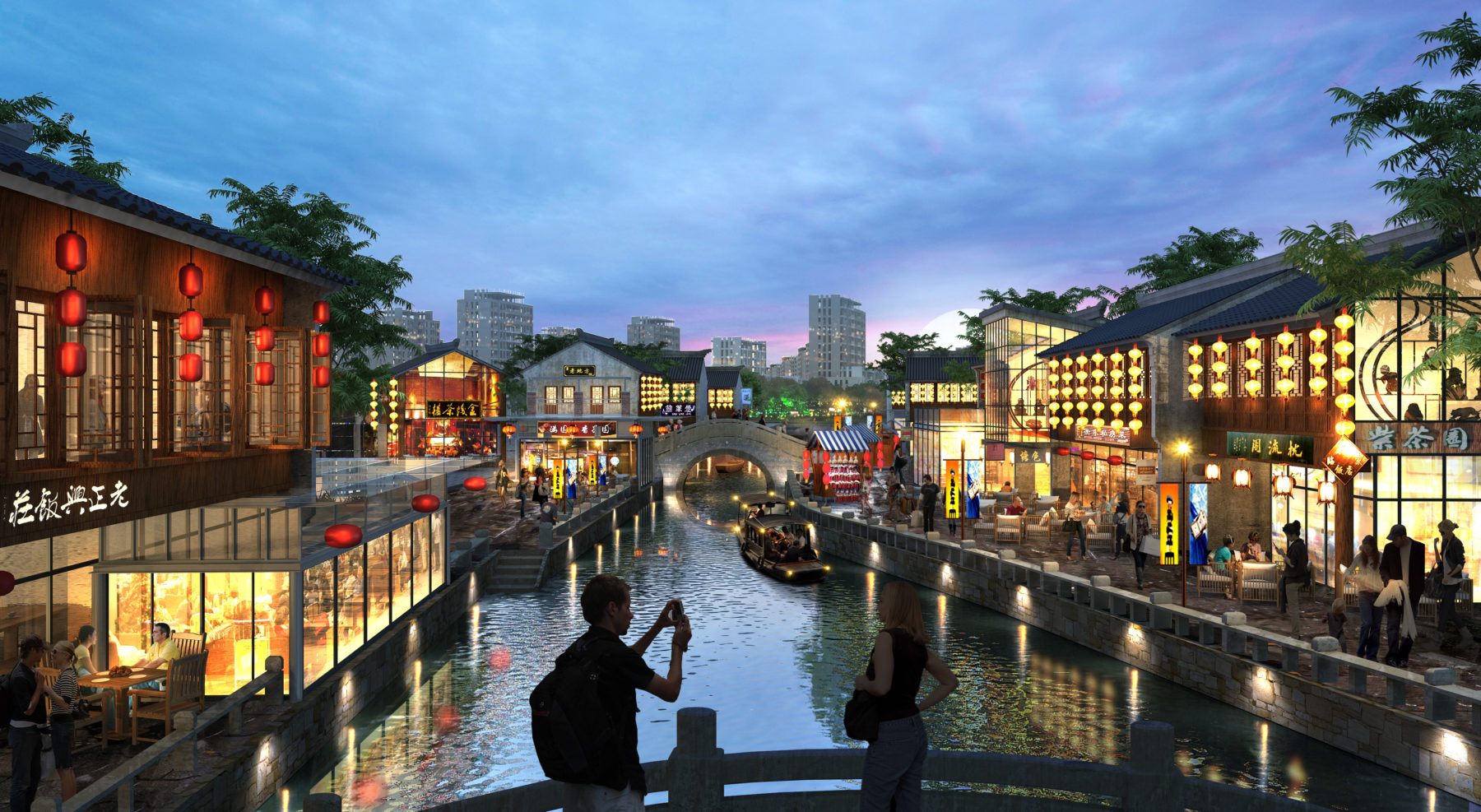 Shanghai's evolution into a globally-influential metropolis is extraordinary, and its identity as a hub of commerce is a symbol of contemporary China. Like many major cities experiencing significant growth, some of Shanghai's progress has been at the expense of its historic assets, many of which remain only in photographs and memory.
Shifting this narrative and building upon nearly two decades of expertise with the adaptive reuse of culturally sensitive sites throughout China, developer Shui On Land engaged Sasaki alongside collaborators Studio Shanghai and Tianhua Architecture & Engineering to lead the design of Panlong Tiandi, transforming it into a vibrant mixed-use district guided by a celebration of its heritage, an inventive approach to public space, and a host of amenities that support a diverse community.
Panlong is one of China's ancient water towns, many of which are located in the greater Shanghai metro area and throughout Jiangsu and Zhejiang Provinces. Originally built over 700 years ago, Panlong's urban form is typical of the region's ancient vernacular, with historic buildings straddling both sides of a canal and bridges providing critical pedestrian links across. Beginning with a strategy for the adaptive reuse of the historic village core, the design team outlined a conservation plan that maintained the ancient urban fabric. Existing alleyways, narrow streets, and other key features of the public realm were also retained, and new streets were carefully aligned to respect the integrity of the old town.
This approach established extraordinary synergies between historic preservation and real estate development, creating a mix of cultural, lifestyle, and entertainment destinations at the core, with a residential neighborhood that provides additional vibrancy beyond. Detailed massing studies of the residential district led to a careful arrangement that reduced visual impacts. Cascading setbacks from the center of the village ensured that new buildings would not cast shadows or obstruct views from within the historic core. The result is an eclectic neighborhood that is not treated like a museum, but rather perpetuates its history through new and creative uses.
Although once considered at the fringe of Shanghai, Panlong Tiandi is an urban destination amidst its suburban context. Strategically situated along metro line 17, Panlong is one stop west of the new National Exhibition and Convention Centre, and two stops from the Hongqiao railway station and Hongqiao International Airport.
Convenient access to transit and a dense and walkable urban form contribute to reduced transportation-related carbon emissions, and are one of many strategies leading to Panlong Tiandi's objective of setting a new paradigm for sustainable urban development. Other features of the development include reuse of building materials leading to a reduction in the project's overall embodied carbon, and limiting stormwater runoff with a landscape that prioritizes filtration and groundwater recharge.
One of the most significant features of Panlong Tiandi is the generous public landscape surrounding the historic core. Viewing the large setback requirement as an opportunity, Sasaki's design challenged the typical approach to Shanghai's ubiquitous buffer landscape condition by rethinking it as a central feature of the development. This bold move repositioned what is traditionally underutilized space into a public park brimming with programming and activity that is interwoven with the rich history of Panlong.
As a result, the new development is colloquially referred to as "Xintiandi in the Park" reflecting the importance of the landscape to Panlong's renewed identity. Three main elements provided the inspiration for the park's design. The first is a contemporary reinterpretation of the 10 Scenes of Panlong as documented in the Panlong Chronicles, which informed spatial organization and planting selection. The second was the creation of "Panlong Dao", which is a journey through the park's various landscape typologies via a path constructed from reused roofing tiles left over from the renovation of the village.
Finally, the canopy walk is a unique element which takes advantage of the park's micro terrain to provide an elevated perspective of the village and the park below as well as up close observation of the diverse planting from a rare vantage point. Connecting the park to the historic core, entry points from the surrounding landscape are strategically aligned to guide pedestrians towards smaller public spaces within the village. These smaller pocket parks provide a contrast to the grand landscape enveloping the old town and offer flexible event and social spaces, act as helpful orientation points, and provide breathing room within the compact urban fabric.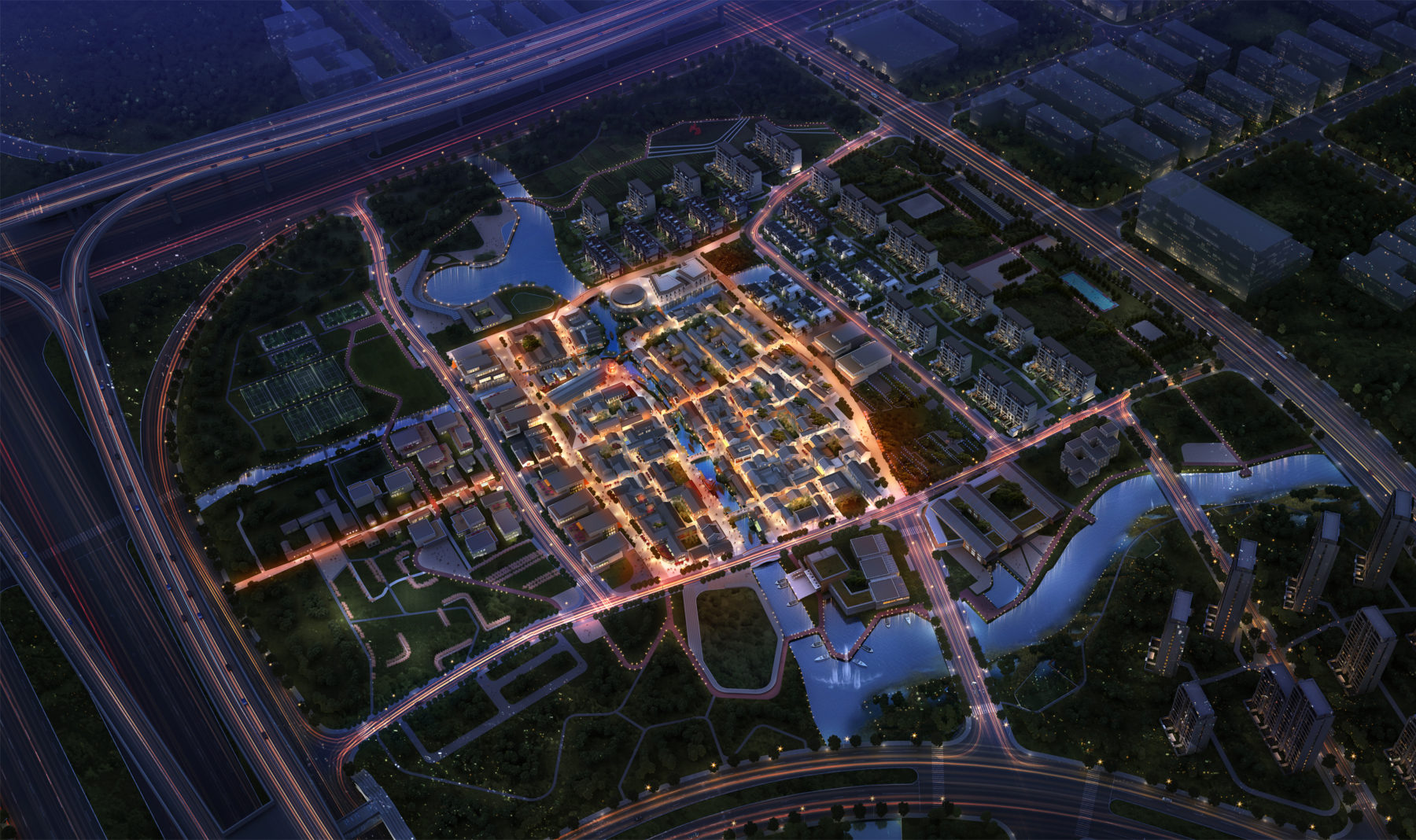 Shanghai has always been a forward-looking city, open to new ideas and willing to reinvent itself to achieve greatness. But sometimes successful ideas can come from a careful examination of the past with an eye towards repurposing what already remains as a catalyst for the future. Panlong Tiandi is an appreciation of what our ancestors left us, and a celebration of their contribution by repurposing their legacy for the enjoyment of future generations.
Click here to learn more about Shanghai Panlong Tiandi, and here to learn more about the entire design team.