Expanding and renovating a community health and wellness space to better serve local families and community members
Merrimack Valley YMCA: Andover/North Andover Branch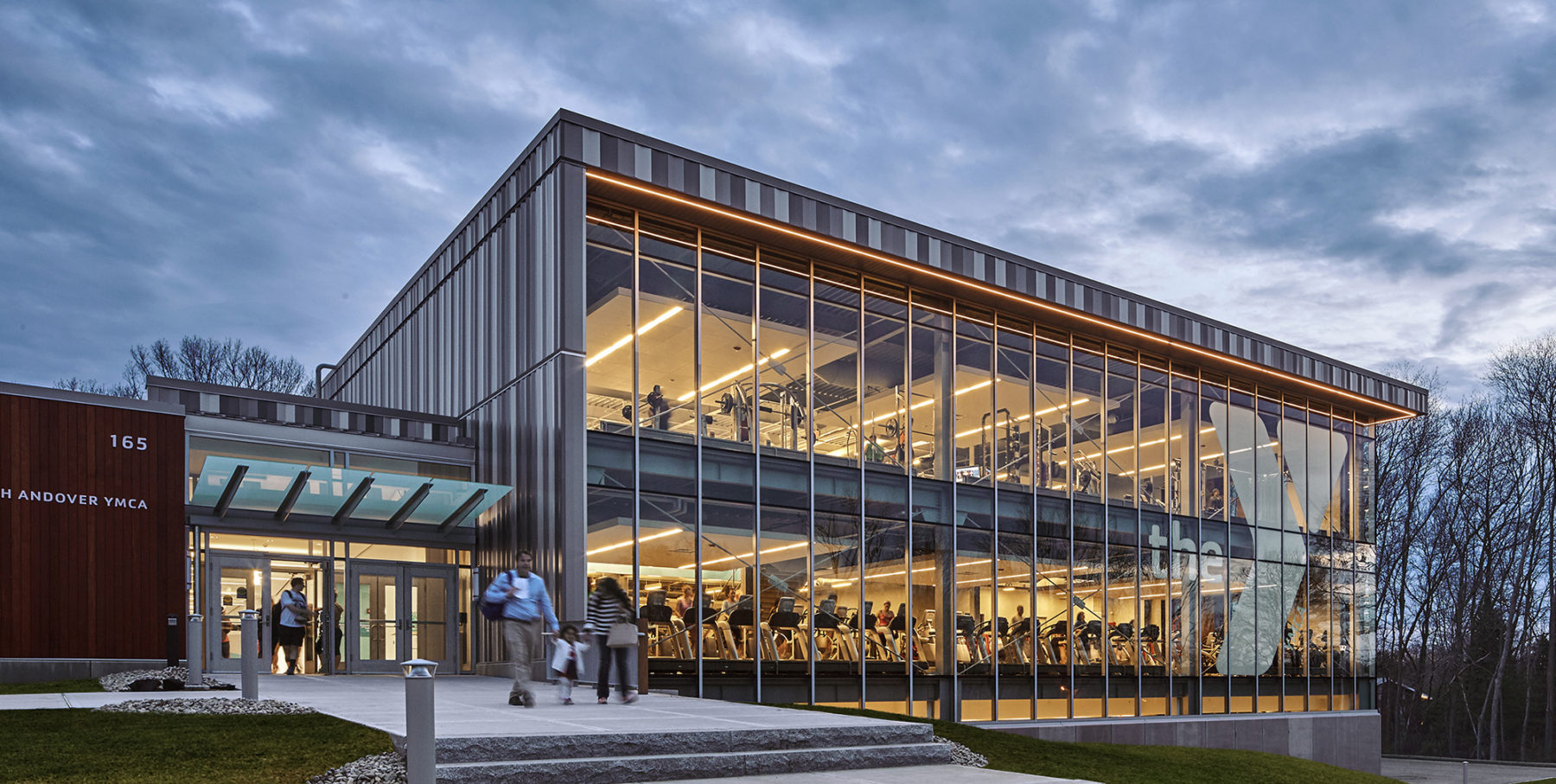 The new Andover/North Andover Branch of the Merrimack Valley YMCA will allow the organization, a vital part of communities in the United States since 1865, to better serve the families and community members of the neighboring towns of Andover and North Andover, Massachusetts. The branch expansion completely renovated the original 1960s-era building, doubled its space with a large addition for a total of 109,000 square feet of fitness, aquatics, and healthcare spaces. The new facility drastically reimagines what a YMCA can, and should, be.
In 2007, the Merrimack Valley YMCA identified the need for an extensive reimagining Andover/North Andover Branch. After engaging Sasaki, a collaborative team of national YMCA experts and local consultants worked through years of project scoping, programming, and fundraising. Faced with a tight budget and increased competition from private sports clubs, the branch needed to distinguish itself.
Sasaki composed a simple massing, utilizing the existing building and wooded site as much as possible, to create an elegant user experience, accessible for multiple generations. Gleaning strategies from contemporary artists, the interior spaces juxtapose highly saturated colors in areas of intense activity with clean, light-filled respites of circulation. A complex program of fitness, aquatic, and support spaces serve a multi-generational membership of over 3,000 people. Gracious new group exercise rooms, three pools, and the fitness and cardio areas are arranged to promote easy access to healthy living. An innovative new program in collaboration with Merrimack College, Active Science, promotes exercise combined with exploratory learning for school age children.  The Active Living Center for Older Adults couple with the 8,000 square foot Child Care Center will ensure that a focus on healthy lifestyle choices can be supported throughout the community's demographics.
In a Letter to the Editor of the Andover Townsman, the new branch was called "a godsend for the Merrimack Valley… [and] it may be the most exciting community happening I have witnessed in the 45 years that I have been fortunate to live in this wonderful town." The new facility is a vibrant canvas on which the Andover YMCA can do better work, supporting youth development, healthy living, and social responsibility.