Envisioning an innovation corridor for the world-renowned Mayo Clinic
Discovery Oasis Master Plan
In Spring 2022, Mayo Clinic Arizona engaged Sasaki to develop a long-term vision, framework plan, and design guidelines for a mixed-use research and innovation district adjacent to their Phoenix campus. As part of the process, Sasaki worked closely with Mayo Clinic leadership to define the institution's future vision for the district, and to establish a series of planning and design principles to guide coordinated decision-making over the project's 20-year development horizon.
Developed to advance the Mayo Clinic 2030 Strategic Plan, Discovery Oasis is envisioned as a 120-acre urban destination for commercial, research and lab development. The district will accompany the adjacent Mayo Clinic campus and ASU's Health Futures Center and include a mix of research and development, biomanufacturing, education, and medical buildings coupled with a coordinated public realm that will enhance the quality of space.
Cultivating an Innovative Ecosystem
The Discovery Oasis framework offers an overlapping and interconnected network of R&D, commercial, and support amenities to create an exciting, inspiring, and supportive destination for residents, visitors, and the broader community. By leveraging sustainable infrastructure and emulating emerging transportation technology, Discovery Oasis will introduce a variety of inclusive and accessible spaces to support the innovation spectrum while activating community cores (work/live/play), promoting an occupant focus, and establishing all 470 acres as a regional innovation nucleus. 
The framework of development for Discovery Oasis includes a 'circulator' element 'The Paseo' to integrate the different neighborhoods. A shared lane for pedestrians, bicyclists, and shuttle buses, The Paseo connects the amenity plazas intended for fitness, recreation and shared spaces for all, central to the neighborhoods.
Advancing the future of healthcare at the local and regional level
As a healthcare-focused, mixed-use innovation district, Discovery Oasis will serve a range of geographic scales from the surrounding greater Phoenix region to the broader national level. At the local scale, Discovery Oasis will integrate existing healthcare, research, and commercial hubs within Phoenix, Tempe, Scottsdale, and Mesa, and expand the innovation network within one of the nation's fastest growing metropolitan areas. At the national scale, Discovery Oasis will join an ecosystem of destination healthcare innovation districts, specifically complementing those within southwestern United States.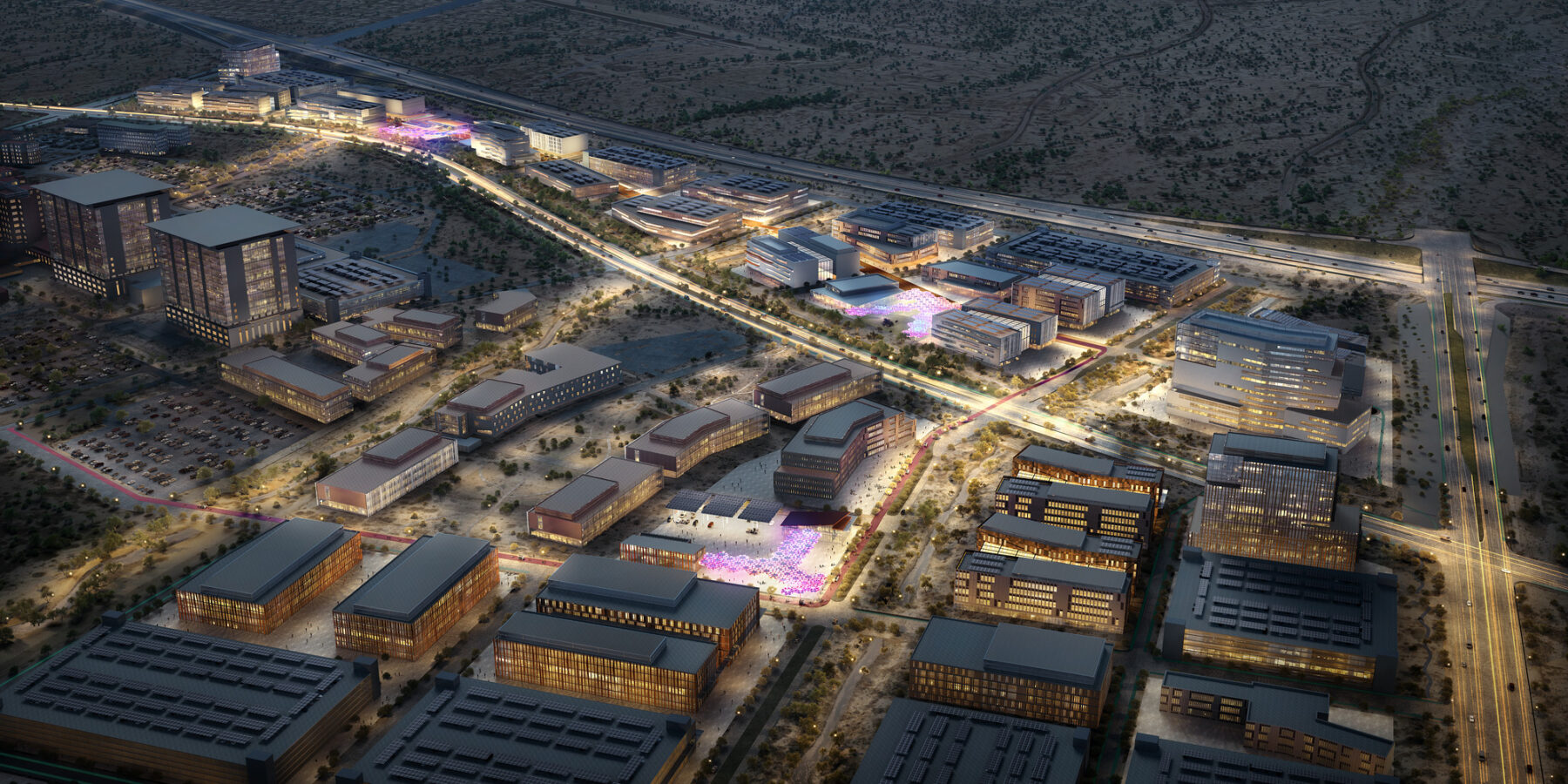 Discovery Oasis will further advance the Mayo Clinic's mission by utilizing a mix of interior and exterior spaces and cultivating a spectrum of companies from start-ups and scale-ups to corporate and apex companies. This will advance the development of commercial products, services, and technologies.. A carefully curated mix of uses will reflect local and regional market trends and ultimately serve as both a new driver of the state's already dynamic economy and a regional draw for attracting talent.