Sasaki Projects Honored by Fast Company's 2021 World Changing Ideas
The winners of Fast Company's 2021 World Changing Ideas Awards were announced today, honoring the businesses, policies, projects, and concepts that are innovating to solve issues that affect us all, like health and climate crises, social injustice, or economic inequality, among others.
This year, three Sasaki projects were honored. Wuhan Yangtze Riverfront Park was selected as a Finalist in the Spaces, Places, and Cities category and given an Honorable mention in the Urban Design category; Panlong Tiandi received an Honorable mention in both the Spaces, Places, and Cities category as well as in the Urban Design category; and the Lawrenceville School Gruss Center for Art and Design received an Honorable mention in the Architecture category.
A panel of eminent Fast Company editors and reporters selected winners and finalists from a pool of more than 4,000 entries across transportation, education, food, politics, technology, and more. Plus, several new categories were added, including Pandemic Response, Urban Design, and Architecture. The 2021 awards feature entries from across the globe, from Brazil to Denmark to Vietnam.
Learn more about the recognized projects below
The Yangtze River drains one-fifth of China's land area. Revered as the mother river, it has nurtured China's history, culture, and economy for millennia. Despite advancements in engineering that attempt to tame the Yangtze, damaging floods remain an annual occurrence. Wuhan, central China's largest city, is re-envisioning its waterfront park to not only accept floodwaters, but to embrace them as a driving force shaping its public realm. The master plan to improve and expand the Wuhan Yangtze Riverfront Park leverages the river's dynamic forces to cultivate a rich regional ecology, and rethinks traditional approaches to coexisting with an ever-changing river.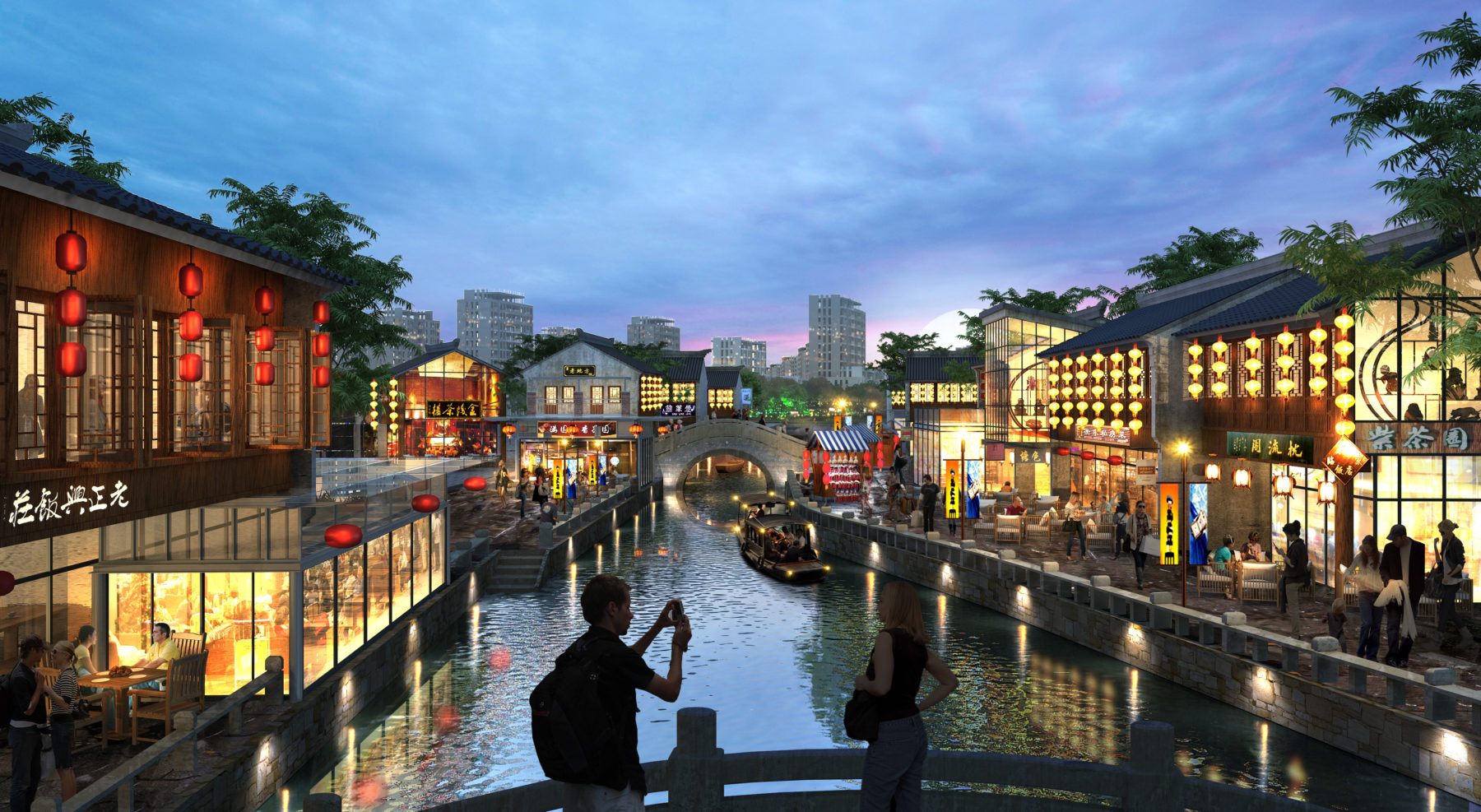 Panlong Tiandi — Honorable mention in the Spaces, Places, and Cities category and in the Urban Design category
Panlong is one of China's ancient water towns, many of which are located in the greater Shanghai metro area and throughout Jiangsu and Zhejiang Provinces. Originally built over 700 years ago, Panlong's urban form is typical of the region's ancient vernacular, with historic buildings straddling both sides of a canal and bridges providing critical pedestrian links across. Beginning with a strategy for the adaptive reuse of the historic village core, the design team outlined a conservation plan that maintained the ancient urban fabric. Existing alleyways, narrow streets, and other key features of the public realm were also retained, and new streets were carefully aligned to respect the integrity of the old town.
This approach established extraordinary synergies between historic preservation and real estate development, creating a mix of cultural, lifestyle, and entertainment destinations at the core, with a residential neighborhood that provides additional vibrancy beyond. Detailed massing studies of the residential district led to a careful arrangement that reduced visual impacts. Cascading setbacks from the center of the village ensured that new buildings would not cast shadows or obstruct views from within the historic core. The result is an eclectic neighborhood that is not treated like a museum, but rather perpetuates its history through new and creative uses.
The Gruss Center for Art and Design (GCAD) is a new 21st century student learning center and makerspace at The Lawrenceville School that bridges museum space and the school's visual arts studios. The addition responds to this new campus typology with an enclosure of simple, neutral materials that allow for transparency and student engagement with the activities happening inside. This building represents a counterpoint to the brick tradition of the campus. It offers visibility and connection with all rooms, while still creating intimate spaces where all students and activities can feel a sense of belonging. 
Today's shift in educational paradigm centers on project-based learning to promote cross disciplinary teaching. Students realize their potential world impact by making things with their hands and fostering their creativity through group collaboration. The project nurtures this hands-on culture by providing work-focused spaces that foster student interaction.